Christmas Full Moon in Cancer - Use the Force for Positive Change by Psychic Seanna
Published Date 12/24/2015
Category: Astrology
---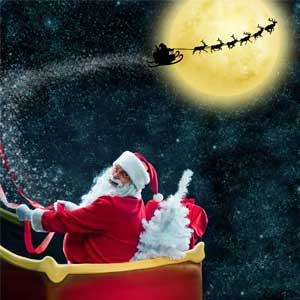 Get a Reading with Seanna x8165
Santa Claus is coming to town! And this year, little ones will be watching for old Jolly St. Nick under the backdrop of a beautiful Full Moon in Cancer. This rare occasion of a Full Moon on Christmas won't happen again until the year 2034! Coincidentally (there are no coincidences!) the last time we experienced this magic moment was in 1977 when the first Star Wars movie was released earlier that year and kids everywhere wished for those hard to find Star Wars Action figures under the tree. Fortunately, that is not a problem today with every imaginable item stamped with the Star Wars logo readily available.

Finding Balance
Full Moons happen every month and their effects are felt for several days before and after they are exact. They give us an opportunity to see where things may be out of balance so we can adjust and to enjoy what we have accomplished and bring ideas to light. This one in Cancer/Capricorn, highlights where we strive for balance between our inner world and emotional needs (Cancer) and outer world of accomplishments and status (Capricorn).

A Recipe For Change
When the Moon is in Cancer, we feel more vulnerable and sentimental. Cancers experience life through their emotions. They are sensitive, protective, and nostalgic. This Full Moon is also close to the Winter Solstice, when we begin to emerge from the darkness into the light. Add to the mix Uranus, the planet of rebellion and sudden change moving into direct motion tomorrow, Christmas Day, and you have a recipe for change and freedom while honoring our past!

Putting It All In Perspective
We can clearly recognize old patterns and habits that have long held us back. We can begin to reframe our lives and relationships and put them in the proper perspective in order to become who we want to be and achieve our dreams with support from our loved ones. Those who are without much or any family will find that spending time recognizing and honoring what your parents instilled in you for values can give you the missing puzzle pieces to improve your life. Those who spend time with family will have a chance to improve the dynamics of your relationship with the women in your life.

Uranus, which has been retrograde since July 26, gives us the big push we've waited for to step out and beyond our protective shell and summon the bravery we need to reach inspired heights. Do your best to avoid petty arguments and keep the big picture in mind. Remember who you are and want to be.

Have a wonderful, magical holiday and May the Force Be With You!
Share This Page
---
Leave A Comment
You must be logged in to leave a comment. click here to login
Comments