---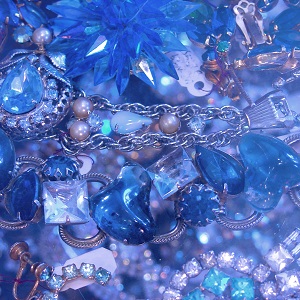 No one could ever accuse a December baby of having too few birthstones. While the blue topaz is frequently listed as the gem of December, many other blue stones are claimed by those born in the last month of the year. Tanzanite, turquoise, blue zircon, lapis lazuli - all have been named among favorites as the December birthstone.

There is also some overlap between November and December birthstones. Although topaz starts out as a colorless mineral, impurities cause a number of colors to emerge - yellow, orange, pink or blue, one of the rarest forms of the gem.

Orange or yellow topaz is most associated with November, but the blue topaz belongs to December. It's said to have a calming effect on Sagittarians and Capricorns, who are both born in the 12th month. In ancient times, blue topaz was used for healing and protection.

Additional Choices
Turquoise is another birthstone for December. It's a blue-green, opaque mineral that was originally brought to Europe from Turkey. This classic gem has often been viewed as a holy stone or a good luck charm because it represents good fortune, happiness and long life.

While some December stones have a more storied past, people shouldn't overlook the blue zircon. Discovered in the Middle Ages, the gem is found worldwide, but largely in southeastern Asia and Australia. Zircon is a natural mineral that comes in several colors, including blue, which is the most popular. It's known for its outstanding brilliance in a range of blue tones.

Tanzanite wasn't discovered until 1967 in Tanzania, its only source. The stone's deep blue brilliance with a hint of purple makes it a good choice for birthstone jewelry. But if you're interested in having tanzanite among your treasures, don't delay. Gemologists predict that the gem's limited deposits will be depleted in a couple of decades.

Lapis lazuli, a cousin to turquoise, is seen as a protective gem that symbolized truth to the Egyptians and faithful love to the Greeks. Today, the gem is found largely in Afghanistan but also in Chile, Russia and the U.S.

Lapis lazuli is viewed as a meditative aid, allowing matters to be seen more clearly. It's also believed to be able to open the body's chakra centers and has healing properties.

Delicate Gems
Jewelry is probably at the top of most people's gift lists when it comes to their birthstones. But some gems are more sensitive to breakage than others and that should be noted when choosing what type of December stones to purchase as jewelry.

Turquoise, for instance, is quite delicate and can crack easily. While it may not be a good choice for rings that can be knocked against surfaces, it stands out beautifully as a pendant on a chain. Its relative softness also yields lovely carved ornamental objects that are popular with collectors.

Blue zircon is very brittle and sensitive to breakage along its facet edges. When used in rings, it should be placed in a protective setting. Or, buy a pair of blue zircon earrings to add dazzle to any outfit.
Share This Page
---
Leave A Comment
You must be logged in to leave a comment. click here to login
Comments