---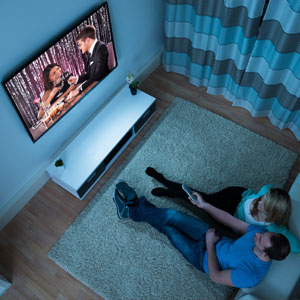 It's often a struggle to find a good TV series to binge-watch. Choose a show that's exactly right for you with these zodiac-based suggestions.


Let Astrology Be Your TV Guide!
These are The Best TV Shows to Watch Based on Your Zodiac Sign...
Aries
Aries love drama that features people at their best — and worst. Longstanding "Grey's Anatomy" touts beautiful actors amid terrible crises, or tug at Aries' heartstrings with the tear-jerker "This Is Us."
Taurus
Sensual Taurus wants deep connections that are visually entertaining. "The Americans" offers plenty of bonding, plus careful visual composition. "Pose" is a perfect match with stunning cinematography and plenty of emotion.
Gemini
Geminis are high energy and want shows that keep them guessing, like "Game of Thrones." Unexpected plot twists keep them interested, while "Mr. Robot" offers loads of surprises, just like a past life reading does.
Cancer
Cancer is steadfast and likes programs with a strong cast, such as "Friday Night Lights." It's sweet, yet gritty with complex characters. "GLOW" is a terrific fit for crabs. These wonder-women are definitely in charge of their destinies.
Leo
Leos appreciate personalities that benefit from their guidance. "Jane the Virgin" stars a cool girl that makes ill-thought decisions, while the upbeat girl from "Unbreakable Kimmy Schmidt" could definitely use some Leo-intervention.
Virgo
Virgos are both tender and stubborn. They enjoy watching funny, complicated people like you'll find in "Broad City." This series stars two young women figuring out life, while "Wynonna Earp" moves Virgo with full-on belly laughs.
Libra
Libras love a happy ending — and detailed astrology readings. "Orange Is The New Black" offers hope for love and flashbacks to feed Libra's need for the whole story. "Stranger Things" transports Libra to another time, with plenty of teenage love to go around.
Scorpio
Scorpios are intense and the best shows for them feature plenty of scheming, like "The Affair." Chocked with emotion, it keeps you on the edge of your seat, while nerdy operative "Tom Clancy's Jack Ryan" strikes the right chord with plotting Scorpio.
Sagittarius
Sagittarius loves adventure and edgy roles. The dark humor of "Shameless" offers you a quick laugh or tune in to "Being Mary Jane." Archers enjoy its complex combination of gentleness and savagery.
Capricorn
Capricorns are tenacious and enjoy series with fierce protagonists. The characters in "Billions" showcase the worst of humanity, while "Divorce" appeals to Capricorn's softer side, thanks to the hero's steadfast search for happiness.
Aquarius
Aquarius is headstrong and likes watching problem-solvers, such as the characters in "Gossip Girl" and "Westworld." From a cast of young people that got it together to a fictional world populated with artificial intelligence, both programs are an excellent fit for Aquarius.
Pisces
Pisces are fun-loving and gentle. Put on a show with earnest themes such as "Gilmore Girls," or watch Pisces root for the underdog in the serious, yet uplifting series "Younger."
Which show tickles your zodiac's fancy? Try one of our TV recommendations and enjoy!
Share This Page
---
Leave A Comment
You must be logged in to leave a comment. click here to login
Comments