Astrologically Speaking - Today's Solar Eclipse by Psychic Moira
Published Date 8/21/2017
Category: Astrology
---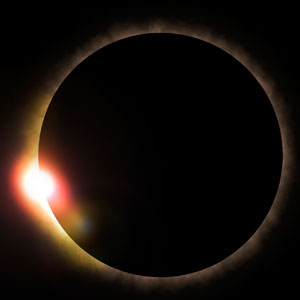 Get a Reading with Moira x7776
A rare Total Solar Eclipse occurs today; for a few minutes, the Moon will completely obscure the Sun, revealing the Sun's Corona, it's beautiful outer atmosphere. It's a rare event for viewers in the United States; the path of totality crosses fourteen states! The last total solar eclipse visible in the US happened in February 1979, and the next one will not occur until April 2024. And the last time a total solar eclipse was visible from coast to coast in the US was 99 years ago way back in 1918!

The Solar Eclipse happens at the time of the New Moon in Leo, August 21 at 28 degrees Leo 53 minutes. It's the second consecutive Leo New Moon; the first having occurred July 23.

A Period of Reflection and Release
The symbolism connected to the Solar Eclipse points to things coming to an end, often with a lot of drama. The Sun's brilliant life affirming energy is momentarily blocked. The interval of Darkness associated with the Solar Eclipse seems to cast a shadow on our lives. It's a period of deep reflection followed by release.

Eclipse energy tends to accelerate whatever we set our intentions to do. It's a perfect time to get closure, release the past as we prepare to move forward with new projects and ideas. It's a good occasion to meditate, and do your inner work. It's best to wait until a few days after the eclipse to begin an important new project, sign contracts, or make significant investments.

A Burst of Emotional Energy
The Eclipse speeds everything up, intensifying the effect of the house in which it occurs. Speaking Astrologically, the Solar Eclipse is an enormous energy burst that gives power to points that are currently in play. When we're aware and prepared, we can assimilate the healing and harmonizing energies and express them creatively.
Share This Page
---
Leave A Comment
You must be logged in to leave a comment. click here to login
Comments