---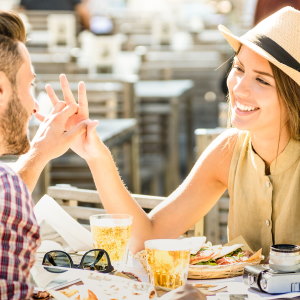 April 2020 offers plenty of opportunities for love. As Venus enters Gemini on the 3rd, you'll realize new choices. The full moon in Libra on the 7th will have you considering a change in your status. Launch into a fresh beginning with the new moon on the 22nd. Want to know more? Start with the horoscopes below and consider an astrology reading for more details.
Aries
Jupiter is perfectly placed to help you make wise choices this year. Expect some significant rewards in your romantic pursuits in April.
Taurus
April is a social month for you, Taurus. Spend time with friends and you'll likely find that introduction you've been hoping for. Follow up on your flirtations. You're likely to have great results.
Gemini
April is all about new lessons for you. If you're in a relationship, find out what your partner has to teach you. Singles should watch for an insightful partner who can introduce you to a new world.
Cancer
You're on fire this month, looking for over-the-top demonstrations of love. Be careful that you don't expect too much from your partner. Plan a fun outing with a partner or love interest around the 7th.
Leo
The full moon on the 2nd will highlight some hopeful prospects in April. Don't act too fast, though. You have ample opportunities on the horizon and plenty of time to make your choice.
Virgo
You'll find it much easier to understand and relate to your partner this month. Venus slips into your solar love zone helping you find the right words for what you're feeling.
Libra
Your love life will simmer at the beginning of the month, but expect a fiery burst of romance around the 22nd. Pay careful attention to your company and make sure you're pursuing a supportive partner who will help you achieve your goals.
Scorpio
Someone from your past will pop up around the 18th, but Mercury is perfectly placed to help you understand how to handle the situation. Don't make any drastic moves this April. The conditions for big decisions will be better in May.
Sagittarius
April calls you to reconnect with your partner or seek new connections if you're single. You may feel some doubts popping up around the 14th, but these will resolve quickly.
Capricorn
Your energy will run high throughout April. This is a good time to pursue big projects, as you're feeling like you can do anything. Your romantic life may take a backseat until next month.
Aquarius
This month will bring out your emotional side and encourage deep relationships. Plan a date with someone special around the 17th. They're likely to help you understand yourself at a new level.
Pisces
April will present plenty of social opportunities. You're looking great, so you'll have no shortage of suitors. Enjoy the attention and avoid making big decisions.
For more insights on your charted course this month, try a love tarot reading. This look ahead can give you helpful insights for wise decision making.
Share This Page
---
Leave A Comment
You must be logged in to leave a comment. click here to login
Comments