---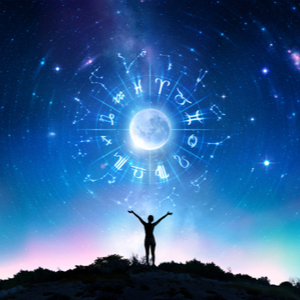 Get a Reading with Moira x7776
As we look onward to 2021, we reflect on the year gone by; yes, 2020 in the rearview mirror will feel so good!
The outer planets in cardinal signs equaled chaos and confinement - and who could forget the summer retrogrades? We struggled to get anything moving, and even when we did so, it felt as we were completing a Sisyphean task. Most would agree, all things are now advancing, and even the most obstinate structures move aside.
Here's a summary of the highlights for the coming year:
Four Eclipses in 2021
Eclipses are potent influences, particularly for the signs in which they occur. A solar eclipse is the ultimate New Moon - think new beginnings and fresh starts. The Lunar eclipse is a Full Moon with superpowers - a time of completion and release. Pay close attention to other planets and points in your chart activated by the eclipse.
May 26, 2021, Total Lunar Eclipse in Sagittarius
June 10, 2021, Annular Solar Eclipse in Gemini
November 19, 2021, Partial Lunar Eclipse in Taurus
December 4, 2021, Total Solar Eclipse in Sagittarius
Mercury Retrograde - Three Times in 2021
The planet closest to the Sun, Mercury, rules Gemini and Virgo; it deposits energy to the Zodiac's 3rd and 6th houses. Strong Mercury signatures tend to be cerebral, intellectual, and interactive. It is associated with curiosity, memory, communication, information and technology, and travel. Mercury Retrograde occurs three times in 2021 while moving through the Airs signs (Aquarius, Gemini, Libra). You know the drill, back it up, lock in down. The finer points of communication get lost momentarily, and obstacles are the norm. You're ready for this, so look for the gifts of the retrograde phase; reunions, repairs, and perhaps discovering something you thought you'd lost.
Mercury Retrograde Aquarius: January 30 - February 20
Mercury Retrograde Gemini: May 29 - June 22
Mercury Retrograde Libra: September 26 - October 18
Venus 2021
Venus informs the way you attract love and abundance. It tells the story of how you meet friends, discover favorite places, and all the things that make your heart happy. The planet of love and abundance moves steadily through the houses and signs, ending 2021 with a long tenure in Capricorn due to Retrograde December 19, 2021 - January 29, 2022.
Mars 2021
Mars is the planet that symbolizes your goals, your new beginnings, passion for just about anything, and of course, power and sex. Its placement in your natal chart informs how you play, fight, assert, and the way you go after what you want. Mars was Retrograde for a portion of 2020, spending a longer than usual tenure in Aires. 2021 sees Mars speeding steadily through the Zodiac to help us embrace our goals.
The Outer Planets
Uranus, the ruler of Aquarius, revolutionizes everything it touches. In Taurus for all of 2021, Uranus has been retrograde since August 15, 2020. It is stationing Direct January 14, 2021, and conjunct Mars on January 20, 2021. The next annual Uranus Retrograde begins August 19, 2021, Stationing Direct January 18, 2022.
Saturn, Capricorn's ruler, the planet symbolic of change, power, and determination, is at 1-degree Aquarius on New Year's Day. Saturn Retrograde begins May 23, 2021, stationing Direct on October 10, 2021. Saturn is in Aquarius all of 2021 and is Square Uranus in Taurus three times through the year. First on February 17, 2021, June 14, 2021, and December 24, 2021.
Jupiter, Sagittarius ruling planet, represents expansion, good fortune, healing, and prosperity, sits at 2 degrees Aquarius on New Year's Day, enters Pisces May 13, and begins its annual Retrograde June 20, 2021. Jupiter then re-enters Aquarius on July 28, Stationing Direct October 18, at 22 degrees Aquarius. Jupiter once again enters Pisces on December 28, 2021.
Neptune, at home in Pisces from 2011 through 2026, is Retrograde June 25, 2021 - December 1, 2021. Neptune transits Pisces every 165 years, influencing spiritual growth to the collective as it favors art, spirituality, revealing secrets, and hidden knowledge.
Scorpio's ruler plunges deeply into the collective cosmic consciousness, awakening purposeful, and transformative concepts. Pluto is in determined, goal-oriented Capricorn all year and is Retrograde April 27, 2021 - October 6, 2021.
Your 2021 Yearly Horoscope
Click on your Zodiac sign below for your 2021 Yearly Horoscope, written exclusively by Psychic Moira.


Happy New Year from Psychic Source!
Thanks for reading. I'm so glad we're on this journey together - Moira
Share This Page
---
Leave A Comment
You must be logged in to leave a comment. click here to login
Comments