Achoo! How Allergy Sufferers Can Enjoy Romantic Scents and Fragrances
Published Date 3/10/2014
Category: Astrology
---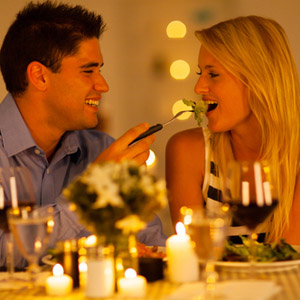 Anniece in Alabama is planning a romantic wedding and honeymoon. Naturally, she'd love to include lots of nicely scented flowers and candles in her plans, but with her fiance's respiratory allergies and her own intense skin allergies, lots of options are off the table. Here is what Anniece learned about producing romantic plans without the allergies to get in the way of all the fun.
Try Unscented Candles
The soft glow of candlelight is ideal for romantic dinners, bubble baths, weddings, and so much more. But the scented versions set off runny noses, sneezes, and sometimes breathing difficulties in allergy sufferers, which aren't romantic at all. Try the unscented candles, which come in all colors, shapes, and sizes. Be sure to get the right candle holder for the type of candle you're using so that it burns safely. Tea lights are generally easier than tall candles, because they sit snugly in the holder with no fear of toppling.
Opt for Flameless Candles
Flameless candles are safer and cleaner than traditional fire burning candles. They do not drop melted wax on the carpets or furniture, and you never have to worry about a pet (or an exciting moment between lovers) accidentally sending the lighted candle into the drapery or upholstery. Tea light sizes are available, as well as taller versions for table tops. Flameless candles are battery-powered and burn for hours with a natural looking light very similar to that of a natural candle flame. Some even gently flicker for a truly realistic effect. These can be put onto timers and programmed to turn on and shut off on their own.
Determine Whether Your Allergy is Scents or Alcohol
Some people aren't actually allergic to the scented candles and flowers, the alcohol is what sets off the allergic reaction. Certain wines and beers are particularly offensive to these allergy sufferers. Check to see that the romantic glass of wine isn't to blame for your reaction. If it is, you can still enjoy the candles and flowers with ginger ale or soda instead. If you aren't sure what's triggering your allergies, a free psychic reading can help.
Try Scents That are Easier on Allergy Sufferers
Some flowers and floral scents are better tolerated by allergy suffers than others. Try some of these less offensive fragrances to enjoy in lieu of other, less tolerated options:
Begonia
Cactus
Clematis
Columbine
Crocus
Daffodil
Geranium
Hosta
Hydrangea
Iris
Lily
Periwinkle
Rose
Tulip
Zinnia


Online psychic readers are great resources for developing romantic plans that work out and don't cause unwanted reactions. Speak to your psychic to see what plans should work out well for you and your love, and learn how to avoid situations that end up less than what was expected.
Don't hesitate to have an open, honest discussion with your partner to see what he or she enjoys in a romantic evening. Chances are, they don't expect things to be too elaborate anyway. Keep things simple, because the less you incorporate into the evening, the less chances there are of something going awry. Test your scents and fragrances ahead of time so there won't be any surprises on the special night.
Share This Page
---
Leave A Comment
You must be logged in to leave a comment. click here to login
Comments