---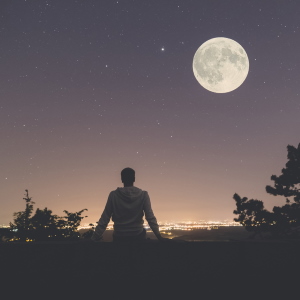 The full moon has distinctive energy that's hard to miss. When the moon is full, it's in a zodiac sign that's exactly opposite that of the sun. This can create energetic tension and a strong need to seek balance. The full moon is a powerful time for action. While the new moon is the best time to set a new intention, the full moon is the moment when you want to manifest it. Understanding the influences of the full moon will help you make the best use of this part of the month.
The 2020 Full Moons of Each Zodiac Sign
The full moon can exert its energy in various subtle but powerful ways. First, let's take a look how the moon's overall energy manifests itself when it moves through the houses of the zodiac throughout the year. The impact of the full moon varies slightly depending on the zodiac sign that the moon is in at that time. To understand the influence of a full moon moving into a particular zodiac sign, its helpful to understand the essence of the sign whose energy is being amplified by full moon energy. For example, a full moon in Aries amplifies and intensifies characteristic Aries energy flowing through the Universe.

Below is a quick guide to the effects of the full moon in each sign along with the dates to expect them in the year 2020.
Aries: (Friday, 10/2/20) - Impulsive Aries makes this full moon the perfect time for action and problem-solving.
Taurus: (Saturday, 10/31/20)- Desires manifest strongly with the full moon in Taurus. Balance material desires with spiritual growth. NOTE: It's a Halloween Full Moon in 2020, a pretty rare event happening only roughly every 19 years! Look for more information about this later in the year at Psychic Source.
Gemini: (Monday, 11/30/20) - Gemini promotes self-knowledge and discovery. This full moon is the perfect time to explore your thoughts with a live psychic.
Cancer: (Friday, 1/10/20 AND Wednesday 12/30/20) - This is a nurturing moon that will call your attention and energies in toward your family and home. NOTE: There are two Cancer full moons in 2020, the only sign this happens with this year.
Leo: (Sunday, 2/9/20)- Leo calls upon you to meditate on your soul's purpose. Accept feedback from others and use it for thoughtful growth.
Virgo: (Monday, 3/9/20) - Watch for a tendency to be overly critical of things as the full moon manifests in Virgo. This sign is one of perfectionism and examination.
Libra: (Wednesday, 4/8/20) - The full moon in Libra calls for balance. Carefully weigh your options and use this energy for meaningful contemplation.
Scorpio: (Thursday, 5/7/20) - Dive deep into your relationships and explore your feelings during the Scorpio full moon.
Sagittarius: (Friday 6/5/20) - The archer helps you set your eye on the target. This full moon brings optimistic energy that drives you forward feeling like anything is possible.
Capricorn: (Sunday, 7/5/20) - You may feel a stronger draw toward material possessions and earthly goals during this full moon.
Aquarius: (Monday, 8/3/20) - Emotions run high with the full moon in Aquarius. Don't isolate yourself. You'll likely feel better examining your feelings with friends and family.
Pisces: (Wednesday 9/2/20) - Enjoy clear vision and powerful insights as this full moon makes your path clear.
The Full Moon and Your Zodiac Sign
It is important to also keep in mind that people will respond differently to the full moon depending on which zodiac sign they were born under. For instance, even if the full moon is in Aries, a person born under Virgo is going to respond to the energy of an Aries full moon energy based on the qualities of their sign.

Find your sign below for insights into what a full moon is most likely to do for you.
Aries: Manifest recognition for your hard work.
Taurus: Help your relationships thrive.
Gemini: Provide a boost of confidence.
Cancer: Offer positive reassuring energies.
Leo: Inspire new ideas.
Virgo: Provide determination and energy.
Libra: Offer insights into the future.
Scorpio: Open your heart to love.
Sagittarius: Inspire confidence to pursue new projects.
Capricorn: Create fresh professional opportunities.
Aquarius: Inspire change.
Pisces: Intensify emotions.
Putting it All Together
To understand astrological mathematics, you need to cross the energy of the full moon in a particular sign, with the general energy of your own sign, and even more particularly with respect to how your sign responds to that specific full moon energy. For example, you would cross the energy of a full moon in Aries, with the way your own sign responds to a full moon in general, and the way your own sign responds to intensified Aries energy in particular. In the example we mentioned above, a Virgo could get a burst of energy to create a plan that solves an on-going problem during an Aries Full Moon.

If this all gets a bit complex, consider speaking to an astrology psychic. This expert can help you prepare for the full moon and make the best use of this energy to propel you forward.


Share This Page
---
Leave A Comment
You must be logged in to leave a comment. click here to login
Comments