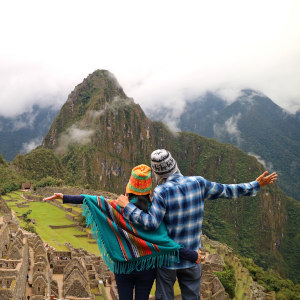 The wedding plans are set, and you're just about ready for the big day. But where are you going to honeymoon? If you haven't picked out the spot yet, you can plan the perfect getaway based on your zodiac sign.
Aries
Aries have plenty of energy and love competition. Put those traits to good use by trekking up to the top of Macchu Picchu with a honeymoon in Peru.
Taurus
As a Taurus, you enjoy stability and the finer things in life. While a multi-city trip isn't for you, a week in Napa Valley, California, is ideal. You can spend your honeymoon sampling wines and savory delicious food.
Gemini
Geminis love to learn new things and are quite social. That's why a honeymoon in Barcelona, Spain, is perfect. You can spend your days exploring the museums, and then enjoy the clubs after the sun goes down.
Cancer
If you're a Cancer, you need a honeymoon that's calm and relaxing. So, consider a romantic escape to the rugged coastlines and quaint villages of the Scottish Highlands. If you're not sure what to do on your trip, an online psychic chat can help narrow your options.
Leo
A safari in Tanzania is the perfect honeymoon for the fun-loving Leo. You'll come home with plenty of exciting stories to tell, and you might even have a chance to snap a few pictures of the lions that represent you.
Virgo
As a Virgo, you're curious and intellectual, which is why you'll love touring the rich history of Jordan on your honeymoon. You can explore the stunning ruins of Petra and snorkel in the Red Sea.
Libra
Libras are all about romance, so a trip to Paris is the perfect honeymoon getaway. Have a psychic phone reading before you leave to help you decide what classic Parisian attractions you should enjoy on your trip.
Scorpio
Scorpios can fulfill their need for new experiences with a honeymoon in Japan. Try something new at the seafood market, take a hike around Mount Fuji, and even learn some Japanese while you're there.
Sagittarius
If you're a Sagittarius, there's a good possibility you already have numerous stamps in your passport. So why not do something different by enjoying hiking and whale watching during a honeymoon in Iceland?
Capricorn
Since Capricorns are incredibly organized, an Italian trip that covers Rome, Venice, and the Amalfi Coast is easily attainable and offers the perfect combination of relaxation and fun.
Aquarius
An Aquarius is imaginative and easy-going, so a honeymoon to India to visit Agra and see the Taj Mahal is an outstanding option.
Pisces
Obviously, this fishy sign needs a relaxing honeymoon by the beach, and Hawaii is the ideal option. You can fulfill your dreamy side by unwinding on a romantic beach or exploring a lush forest.
If you're having a hard time deciding where you should go for your honeymoon, turn to your zodiac sign for the perfect inspiration.
Share This Page
---
Leave A Comment
You must be logged in to leave a comment. click here to login
Comments