---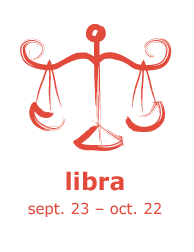 Happy Birthday Month Libras! Our in-house Astrologer, Moira, gives us a deeper look into Libras.

Libra- September 23 – October 23
An Air sign, ruled by the planet Venus, Libra is gracious, fair-minded, and talented. Those born under this cardinal sign are often an outward expression of Venus; graceful manners, ringing laughter, and beautiful smiles that light up their face. They are charming and magnetic, which attracts people to them. Libras are cheerful and optimistic, with a natural tendency to observe the brighter side of life, even in the worst situations. Libra people are often gifted in the arts and sciences there are many gifted actors, musicians, composers, poets, authors, and scientists born under this sign.

Libra's path is balance. Libra inherits a unique ability to balance other people's energy. The seventh house, the domain of Libra, is both the house of the therapist and the realm of relationships. Many Libras are naturally psychic and will use their gifts in their work as artists, performers, healers, scientists, or teachers. Libra natives possess an innate objective awareness. Very often troubled souls are simply drawn to unload their problems on a Libra friend. Finding balance in all things is important to these gentle souls; they despise sadness or discord, yet they will be the first responders in the event of a crisis.

Although the personal cost may be great, Libra seeks to bring balance to all things, forfeiting personal needs in the process. It is vital that the Libra individual create time to reclaim personal energy. Yoga, meditation, regularly scheduled retreats will do wonders for these special souls. Above all the Libra should be surrounded by beauty and calm, as this will aid in supplying much needed stability.

Libra is most compatible with other Libras, Gemini, Aquarius, Sagittarius, and Leo
Libra is the only sign in the Zodiac represented by an inorganic object. The Scales, not an animal, represent Libra – indicating Libra's objective and fair- minded thinking.

Libra women eternally youthful: Libra Barbara Walters was born September 25th, 1929. Cheryl Tiegs, super model and entrepreneur will be 65 on September 27th, Catherine Deneuve celebrates her 69th birthday on October 22nd, Actress and anti-aging authority Susan Sommers is the picture of health and beauty at 66 years young.

Famous Libras include Ray Charles, Truman Capote, E.E. Cummings, Lenny Bruce, Chevy Chase, Sasha Baron Cohen, Jimmy Carter, Gerry Adams (Irish Political leader), Catherine Deneuve, Simon Cowell, Marion Cotillard, Cheryl Tiegs, Matt Damon, Snoop Dog, John Edward (Psychic Medium), Zac Efron, Eminem, Dona Karan (fashion designer, Bruno Mars, John Mayer, Susan Sommers, Barbara Walters, Susan Sarandon, Gwyneth Paltrow, and John Lennon.

by Moira x7776
Share This Page
---
Leave A Comment
You must be logged in to leave a comment. click here to login
Comments