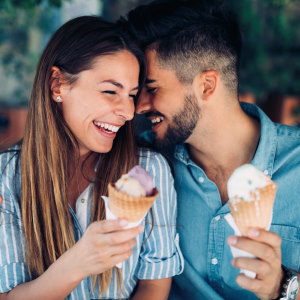 September begins with Mars and Neptune opposite one another in Virgo and Pisces. This duo will encourage the resolution of problems that you've had the past few months. As the sun transits Virgo, issues such as co-dependency will become easily visible, so you'll have no trouble determining whether you're in a healthy relationship or it's time to move on. Read on for more love tips specific to your zodiac sign.
Aries
Trust in your partner and maintain realistic expectations to avoid disappointment. If you're single, you may meet a new partner on a leisure trip this month.
Taurus
You're feeling dreamy this month, which could make it difficult to settle down if you're single. If you're in a relationship, focus on communication and make sure your point is coming across clearly.
Gemini
If you're in a relationship, you'll experience support, affection, and stability. Singles should avoid jumping in too quickly and enjoy the slow growth of new love.
Cancer
You'll get plenty of support from your partner this month. It's important to stay open and truthful both in established relationships and budding romances.
Leo
Peace and harmony dominate your love life through September. Expect peaceful relations with your partner. If you're single, move slowly. Rushing could agitate the calm waters of your life right now.
Virgo
Show patience and understanding to your partner or love interest, and they will return the same to you. Your feelings are quite complex right now, so give yourself the grace to figure them out at your own pace.
Libra
There's a heavy focus on your love life this September. If you're in a new partnership, expect it to move quickly. Longstanding relationships are ready for a bold move forward. Make that leap!
Scorpio
You may feel overwhelmed by your responsibilities right now. Focus on the good qualities of others and resist the temptation to take your frustrations out on them. Singles may find a new love interest toward the end of the month.
Sagittarius
The first half of the month will present some challenges in your relationships, but you'll have the opportunity to smooth things over in the second half of September. Focus on compassion and patience.
Capricorn
If you feel anger creeping in, confront and banish it so you can experience peace in your relationships. Focus on the big picture. If you're single, you may find new romantic opportunities around the third week of September.
Aquarius
The timing is right for new ventures. Make sure you're communicating well with your partner so you can cater to their needs in these endeavors as well. Singles will find new love among their friends.
Pisces
You may feel the need to take a break from your partner right now, but you'll come back together stronger than ever. Singles will find that they can charm nearly any love interest.
For more personalized information on what to expect on your romantic radar, speak with a love psychic today.
Share This Page
---
Leave A Comment
You must be logged in to leave a comment. click here to login
Comments