---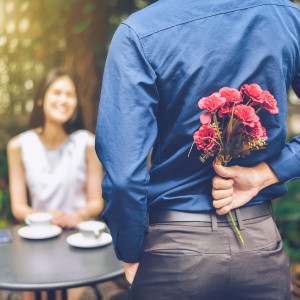 May's astrological events create a roller coaster for relationships this year. The full moon in Scorpio on May 7 can offer some closure for emotional issues you've been having. But beginning on May 13, Venus will go retrograde through Gemini making it difficult to communicate with your loved one. On May 28, Mercury will enter Cancer, making it a little easier to find the right feeling words for what you're going through.

Learn more about what to expect based on your sign below, or connect with a psychic for a more personalized reading.
Aries
Your romantic prospects are strong this month. If you're interested in someone, let them know before the 13th. This is the time to let your true colors shine. Your partner will love you for your active spontaneity.
Taurus
The beginning of the month will be quiet but sensual for you. Don't try to use too many words. Just let your naturally romantic side shine. Actions speak best whether you're in a relationship or reaching out to a new potential lover.
Gemini
Your love life will be lighthearted and happy at the beginning of May. After the 15th, you may feel the urge to spark a little romance in the workplace, but this should be avoided. Keep business and pleasure separate for the best chance at success.
Cancer
Your emotions are in overdrive this month. Take plenty of time for yourself to sort out what you're feeling. It's best to find some stable ground so you don't overwhelm your partner.
Leo
It's time to check on the balance between your friendships and your romantic life. Are you neglecting your friends in favor of your lover? Find a way to nurture all the relationships in your life.
Virgo
Don't hold on to conflicts that arise this month. Let them go and approach your love life with lightheartedness. This is a good time for playful outings.
Libra
Plan a date night before the 14th and enjoy the harmonious energies in your sign. Keep things light and playful around the end of the month and avoid any serious discussions.
Scorpio
You'll find your love life very intense this month. Enjoy the feelings of tender sensuality but avoid making any significant changes to your relationship status.
Sagittarius
You're looking for intellectual stimulation this month. Plan dates that will get the conversation flowing, like a trip to an art gallery or museum.
Capricorn
You'll feel a great deal of empathy in May and finally learn whether your love is reciprocated. This is a time for emotional renewal — embrace it!
Aquarius
Plan spontaneous outings this month, whether you're in a stable relationship or dating someone new. Follow your heart, as it's on the right path.
Pisces
You'll likely feel like a homebody this May. Plan date nights in where you can enjoy each other from the comforts of home.
Want to learn more? Connect with an astrologer for a personalized reading.
Share This Page
---
Leave A Comment
You must be logged in to leave a comment. click here to login
Comments