---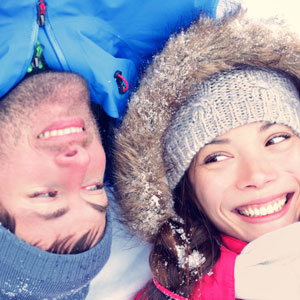 February is the time to embrace love, whether you're sparking a new relationship or fanning the flames of a romance for the ages. Learn what the month of love has in store for you and find out how to have your best February yet.
Aries
Arians have a way of getting anything they want, but romance demands some friendly back and forth. This February, give as much as you can, knowing you'll receive in equal measure when the time is right.
Taurus
Taureans might not be feeling the romance at the beginning of the month, but that's nothing a little self-care can't fix. Treat yourself well, and before you know it, you'll be inspired to spread the love to a special someone.
Gemini
Balance is in the stars for Geminis early this month, but that won't last for long. Set your sights on a red-hot romance, and get ready to embrace your sizzling side just in time for Valentine's Day.
Cancer
February is the perfect month for Cancerians to inject some new romantic energy into a long-term relationship. Balance the new and exciting with the romance you know and love, and let the sparks fly.
Leo
Leos will love feeling like targets for Cupid's arrows all February long. Follow your heart, whether it's encouraging you to pursue each of your passions or stoke the fires of the brightest flame.
Virgo
A blissful month of romance might not look like it's in the stars for Virgos. However, once you have those tough conversations to clear the haze, you'll be ready to bask in some much-deserved love.
Libra
February is bound to start off with a bang for Librans, with plenty of red-hot excitement. As the scales balance out later in the month, get ready for a bit of soul-searching and some heart-to-hearts.
Scorpio
The struggle between head and heart isn't new for Scorpios, but in February, listening to your heart is essential. Give yourself all the time you need, even if that romantic spark has to wait until the end of the month.
Sagittarius
February is bursting with friends, family, and lovers, which means Sagittarians are bound to be on cloud nine. Enjoy this month of love, and let Cupid's arrows guide the way.
Capricorn
This romantic month has a way of sparking love-tinged creativity in Capricorns, which the object of your affection is sure to appreciate. Rekindle those glowing embers or spark a new flame, with your passion as a guide.
Aquarius
Aquarians may have some tough decisions ahead this month, but there's still time for love. Listen to your heart, look to the stars, and reach out to an authentic psychic for help choosing the right romantic path.
Pisces
February may get off to a rocky start for Pisceans, but keep your eyes on the prize, and you'll find just what you're looking for. Focus on those romantic flickers, and you'll easily fan them into full-blown flames.
Eager for more sizzling details? An astrology reading can help you anticipate what's in store for your zodiac sign this February.
Share This Page
---
Leave A Comment
You must be logged in to leave a comment. click here to login
Comments