---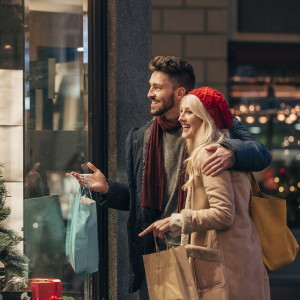 December 2020 offers astonishing opportunities for growth. On December 21, Jupiter and Saturn will come to conjunction for the first time in 20 years. Expect to feel old habits and situations die away as new beginnings take root. Other dates to make note of are December 14 when the new moon in Sagittarius will encourage inspired goal-setting, and the full moon on December 30, which will bring your aspirations to fruition.
Below are some tailored insights for your love life based on your individual astrological sign.
Aries
Your love life will face some hard decisions this month. Make sure you're staying grounded and take the time you need to come to a conclusion you feel at peace with.
Taurus
Watch out for miscommunications. A vacation toward the end of December may be just what you and your partner need.
Gemini
December brings great gains in your love life. Take time to pamper your partner. If you're single, expect a love interest to develop in your social circle.
Cancer
You may get in an argument with your partner between the 12th and 14th. Be patient. Your home and romantic life will smooth out by Christmas.
Leo
Communication is essential in your relationship this month, whether you have a partner or you're getting to know a new love interest. Talk it out.
Virgo
The new moon on the 14th will create a sentimental shift for you. Take the time to make special memories with your loved one from the 22nd through the end of the month.
Libra
Finances may create some conflict in your relationship, so be mindful of your spending. If you're single, this is a good month to focus on friendship rather than romance.
Scorpio
Your natural rigidity may cause conflict in your love life. Try to stay flexible with your partner and don't jump to conclusions.
Sagittarius
The Sagittarius moon on December 14 will shine a favorable light on your love life. You may meet a new romantic interest or have the opportunity to see your partner in a new light.
Capricorn
If you're in a relationship, this is a good month to start thinking about making a deeper commitment. New partners may face turbulence if they try to commit too fast, so take careful stock of the situation before you make big moves.
Aquarius
Explore your spirituality on a deeper level with your partner this month. The time is excellent for a joint psychic reading to provide you with new insights together.
Pisces
If you're single, broaden your horizons — someone is waiting for you in an unexpected place and may even live abroad. Those in a relationship will have a great opening for honest communication in December, so don't hesitate to share your feelings and concerns.
For more details on your December horoscope, consider a personalized astrology reading.
Share This Page
---
Leave A Comment
You must be logged in to leave a comment. click here to login
Comments