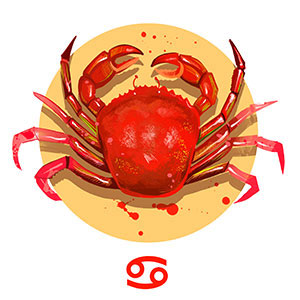 Before computers, Astrologers determined charts by hand. We used an ephemeris, a book covering years, that identified the daily planetary positions for the year at noon GMT. Most of us likely still use one.
Calculating natal charts by hand took a bit of time and some basic mad-math skills to figure out what time and date planets will make ingress to a sign in any given year. I'm glad we have computers now, although I still refer to my good old ephemeris.
The Sun's Ingress
The precise moment that the Sun enters each sign varies yearly by hours and minutes. That's because each year, the Sun makes what's called ingress (noun: the action or fact of going in or entering) to the next sign at a different time, and sometimes a different date. 
It's never the same time, but it can be the same date based on where you're living. For instance, let's look at Cancer: Most people think of the First Day of Summer on June 21. However, some years (for example in 2021), for those of us in the United States, the Sun's entry into Cancer actually occurs on June 20.
Zodiac Start Dates Can Vary Slightly
Typically, horoscopes will show Cancer birthdays beginning June 21, the Summer Solstice. This year, the Sun enters Cancer on June 21, 03:32 GMT. Those in the United States will see the Sun ingress Cancer on the 20th this year. So depending on the exact time a child would be born, they could have a June 20th birth date (traditionally the last day for Gemini) but actually be considered a Cancer Zodiac sign this year.  
Here's a list of all of the Sun ingress Cancer from 2021 - 2023. You can observe slight variations. 
Sun ingress Cancer (UT/GMT)
2021, June 21 03:32
2022, June 21 09:13
2023, June 21 14:57
Because the Sun's journey through each sign varies by degrees, the time changes somewhat each year; in short, the first day of Cancer depends on the year and the location. Happy Birthday Cancer, and Happy Solstice, wherever you may be!
Thanks for reading. I'm so glad we're on this journey together! - Moira
The Tipping Point - Life on the Cusp
Psychic Moira's entire 13-part Born on the Cusp series exploring the relationships between two Zodiac signs can be found here. 
Get a Reading with Moira x7776
In-house Astrologer Moira writes the weekly Love Horoscopes for Psychic Source. Formally educated in psychology and theatre, She's also a Certified Transpersonal Hypnotherapist and Reiki Master.
A professional Astrologer since 1986, Moira considers herself to be lifelong student of the esoteric arts. She travels extensively, leading workshops centered on soul-mate astrology, past life exploration, and psychic development.
Her passion is helping others find clarity and connect with their potential and purpose. When not working with Psychic Source customers, Moira volunteers with her local animal rescue group.