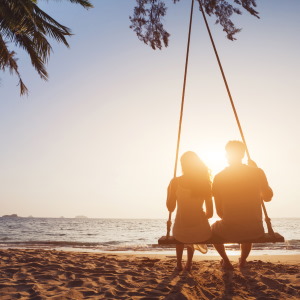 August offers outstanding opportunities for self-improvement in nearly every sign thanks to the full moon in Aquarius on the 22nd. As Uranus goes retrograde into Taurus, you may feel apprehensive about change, but rest assured that this is a great time for growth in your love life.
Aries
If you're in a relationship, you'll enjoy a peaceful month with ample opportunities for fun together. Singles will find that their charisma is particularly alluring to a new potential partner.
Taurus
August is a great time for personal growth. If you're in a relationship, you'll find that you need to make some compromises, but with a little flexibility, you can keep your love going strong. Singles should focus on slow growth.
Gemini
This is a very social time for Geminis. Couples should take advantage of invitations to enjoy gatherings together. The single Gemini may find love during a group outing.
Cancer
Let your inner child out. Couples will enjoy playful dates. If you're single, your charm will undoubtedly attract potential partners.
Leo
The single Leo should use this month to clear away the remnants from past relationships and create a clean slate. If you're in a relationship, you may need to make the effort to curb your ego and make some compromises.
Virgo
Watch out for misunderstandings this month and try to bite your tongue till after the 16th. As long as you're mindful of your words, you should enjoy smooth sailing in your relationship. If you're single, you'll find fun opportunities for new meetings.
Libra
You're ready for a change of scenery. Take the month for some quiet meditation and thoughtful visualization to help you identify how you want to shape your love life going forward.
Scorpio
You may feel on edge toward others at the beginning of the month, but you'll achieve calm by mid-August. Be careful with your communications as a partner or potential partner is likely to misunderstand your motivations.
Sagittarius
The stars are aligned to give you a glimpse of the future, making this the ideal month to contact a love psychic. You'll discover powerful insights that will help you improve your relationship or find the right partner.
Capricorn
You may experience some tension in your love life this month. To resolve this, you'll need to target your emotions and focus on clear communication.
Aquarius
The beginning of the month is bumpy for Aquarius relationships, but things will soon smooth over. If you're single, expect a major change in the landscape of your love life.
Pisces
August offers welcome stability for the Pisces. If you're single, expect a romance to solidify into a stable relationship. Those in a partnership will have powerful opportunities for strong communication.
For more personal insights into your horoscope, consider speaking with an experienced psychic who can help guide you toward the best moves for your love life.
Share This Page
---
Leave A Comment
You must be logged in to leave a comment. click here to login
Comments