---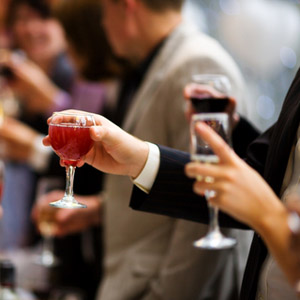 It's easy to allow party throwing to become overwhelming and costly. It isn't because don't love entertaining, it's just too much to try getting done with so many other obligations taking your time. This year, scale back on the party plans and expenses so you can truly enjoy entertaining friends and family.
Take an Ax to the To Do List
Sit down and take an open-minded look at your to do list. Ask yourself what would really happen if you didn't get each item on the list done. If it isn't necessary, eliminate it. Focus on what's truly important, and don't allow yourself to become ragged or broke over things that aren't really necessary to begin with. If you're not sure of the consequences for not getting a tough to do item done, have a heart to heart chat with a psychic advisor.
Rethink the Guest List
When you're done analyzing the to do list, sit down with the guest list. Are there people on the list that you rarely see anymore? Are there people whom you normally invite who never reciprocate? Don't feel like you have to invite everyone you know to every party you throw. Fill the list with people who will truly appreciate the honor, and are likely to return the favor.
Buy More, Cook Less
Most people spend so many hours in the kitchen during their own parties that they have no time or energy left for sitting down and enjoying the company of their loved ones. There may be a dish or two that you really enjoy making, or is a must have for the family. But you'll probably discover that the bought versions of most dishes are as good as your own, cheaper to buy than to make from scratch, and less troublesome for you.
Call Instead of Sending Invitations
Party invitations and stamps are another expensive and time-consuming task you can eliminate. Instead of giving yourself carpel tunnel syndrome, use your list to make personal phone calls to each person on the list. That way, it's a two-way conversation, not just a scribbled note on a card. Better yet, send each of them a personal note on social media or via email and call it a day.
Cut Back on the Decorations
It isn't actually necessary to decorate every wall and flat space in the home to make it look festive. A nice tablecloth, a few goodies around to munch on, and a clean home is enough. Save yourself hours of work before and after the party by scaling back on the decorations. Unsure if leaving off the decorations will bring bad luck? Talk to your psychic about what to include and exclude from the scheme this season.
Opt for Paper Plates and Plastic Cups
Doing the dishes for a crowd can take hours, especially if your best China has to be hand washed. Instead, make things less stressful by serving meals up on paper plates and plastic cups. Everyone can toss their plates after eating, saving you hours of hard labor in the kitchen.
None of these ideas excludes having great fun with your guests, and each leaves you ample time to spend time with the important people in your life, as well as leaving a few bucks in your pocket when the party is finished.
Share This Page
---
Leave A Comment
You must be logged in to leave a comment. click here to login
Comments