---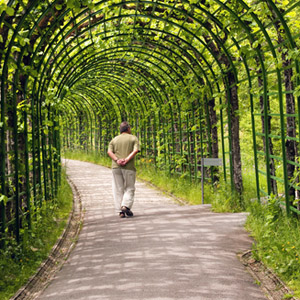 The passing of a loved one is a very difficult experience, no matter what the circumstances. While it may be difficult to face memories of the person immediately after their death, you might find with time that it's very pleasant to think back on your fond times together. Use these soothing rituals to help you reconnect with someone special who has moved on.
Write Them a Letter
Writing a letter is a very therapeutic way to connect with a loved one who has passed. This gives you an opportunity to tell them things you may have neglected to say during their lifetime. If you worry that you didn't fully express your love, or you haven't thanked them appropriately for their influence in your life, you can do so in your letter.
You can dispose of the letter however you see fit when you're done, but you will leave the experience feeling lighter for having released these thoughts and emotions.
Pay a Special Visit to Their Resting Place
Visiting the resting place of a loved one is a common way to reconnect with them after they have passed. If your loved one was buried, you can take flowers or a gift to the grave site. If they were cremated, you might be able to visit the place where their ashes were spread. If you're not able to physically visit your loved one's resting place, you can still visit them symbolically in any place where you feel their presence strongly.
Seek Guidance from a Psychic
Seeking live psychic advice is a great way to reach out to someone who is no longer with you. You can get some valuable insights on seeking closure and peace from this insightful conversation.
Many psychics can help you discover and handle deep feelings that you didn't realize you had. A psychic medium may also be able to help you connect with your loved one, particularly if there's an important message to impart.
Reenact an Important Tradition or Ritual
Revisiting an activity that you often performed with your loved one can help you feel closer to them, and may aid in getting some closure. If you regularly visited a particular park on Sundays, you might feel that visiting that park is too painful in the weeks and months immediately following their passing. In time, however, you can use the ritual as a special way to commune peacefully with the person who has passed.
Celebrate Their Life with Loved Ones
There's no reason you should stop celebrating someone's birthday or anniversary just because they've passed on. Instead of spending these days in a gloom of sadness, plan to get together with others and remember your friend or family member fondly. It's likely that he or she would love for you all to have a wonderful party and enjoy yourselves in honor of the day.
Focus on the positive times that you spent together when you reconnect with your loved ones and you can come to enjoy thinking of them and revisiting your special times together.
Share This Page
---
Leave A Comment
You must be logged in to leave a comment. click here to login
Comments