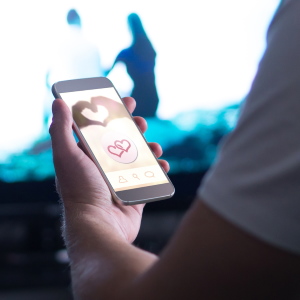 With the coronavirus keeping people quarantined, dating has become more challenging than usual. While you can't responsibly meet up with your date in person, there are still several ways that you can spend time with your sweetie or virtually meet up with someone new. Try these strategies for remote dating during the pandemic.
Schedule Your Date
Scheduling your date allows you to go through the ritual of in-person dating. You anticipate your date, pick out an outfit, take your time getting ready, and mindfully plan your activities. Setting aside a particular time allows you both to eliminate distractions. Consider setting an end time for the date as well, so you don't have to linger awkwardly.
Ask Insightful Questions
Asking the right questions will help you get to know one another on a deeper level. Put together a few questions ahead of time to ward off awkward silences. Since your date is virtual, you can even have these on a discreet piece of paper. If you're having trouble coming up with questions, schedule a psychic chat before your date and ask for some inspiration.
Learn Something New Together
Embarking on a new activity together is a great bonding experience that lets you see how the other person tackles challenges and approaches unfamiliar activities. This also provides ample opportunities for interesting conversations. Try taking an online class together or doing the same craft as you video chat. You'll both get to broaden your horizons while making some great memories in the process.
Have a Remote Dinner and Movie Date
The classic dinner and a movie date works virtually almost as well as it does in person. Plan your dinner menu together to make sure you both have the right ingredients. Start your video call when it's time to prep and you can begin the date by virtually cooking together. You can try a new recipe or take turns teaching each other how to make your favorite dishes.
After you've dined together via video, use a Chrome extension like Scener or Netflix Party to watch a movie. This lets you marvel over the plot twists together as you view the same content in real time.
Show Off Your Space
Taking a virtual tour of your date's home is a great way to learn more about them. You can take turns showing off your favorite vacation keepsakes, the art you've selectively hung up, and meaningful photos that you keep on display. You can also get creative with this and compare specific areas, such as your junk drawers or nightstands. Chatting with an authentic psychic before your date can clue you in to particular areas you might want to take a peek at.
While social distancing can put a damper on some social activities, there's no reason that you have to stop dating altogether. Simply think outside the box and you can safely connect, whether you're staying close to your existing partner or planning a first date with someone new.
Share This Page
---
Leave A Comment
You must be logged in to leave a comment. click here to login
Comments