---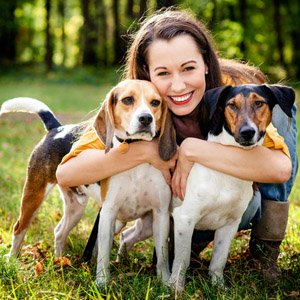 Losing a pet is devastating, but the faster you start searching for your lost friend, the better your chances of finding him. There are many resources available to you, ranging from old school techniques to new and innovative choices. You can prevent dealing with a lost pet by making sure your buddy has a collar and tags or a microchip, but after your furry friend disappears, there are still methods you can use to successfully reunite.
Get in Touch with a Pet Communicator
As soon as you know your pet's missing, your first instinct will probably include panic. That's natural and understandable, but it won't help you or your pet. Instead, find an animal communicator to talk to about your pet and your problem. He or she can help you find out what happened to your pet, especially if the psychic is familiar with your pet. This way, you can get an idea if someone stole your dog or your cat ran away.
Share Some of Your Pet's Favorite Things
You can talk to your communicator over the phone but you might have more luck with a live psychic reading. By going in for your reading, you can take something that belonged to your pet, such as your cat's favorite catnip mouse or your dog's favorite blanket. Such items can help your psychic reach out to your pet, which may lead to a quicker reunion.
Put Up Missing Posters
You shouldn't avoid some of the more old-fashioned methods of finding a lost pet, though. As your psychic will likely advise you, putting up posters featuring your pet's photo and other distinguishing characteristics will help you find your little loved one fast. However, you can use your reading to find out which areas in your neighborhood would best benefit from a glut of posters.
Scour the Shelters in the Area
It's entirely possible that someone has already found your pet and taken it to a shelter. Make a list of all the animal shelters in your area, and even a few outside of it—pets can get pretty far pretty quickly, so it's best to cover all your bases. You may have to give proof of ownership, but a detailed description will serve you well as you call different places. This will also make sure that the shelters keep an eye out for any incoming pets that match your description.
Take Your Search Online
Extend your reach as far as you can. Share photos, descriptions, and other information on your social media sites, and ask your friends to share them as well. You can also go to sites like Craigslist to leave descriptions, because someone browsing the site may spot your pet. There are sites specifically focused on finding lost animals too. Just make sure to avoid any scams, wherein people claim they've found your pet in hopes of receiving a reward.
Don't give up hope when you lose your pet, not when there are so many options at your disposal. Have you ever been reunited with a four-legged friend?
Share This Page
---
Leave A Comment
You must be logged in to leave a comment. click here to login
Comments