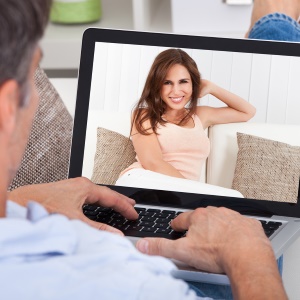 Have you been reluctant to try dating apps because of security, or perhaps you're not sure your date will be genuine? Online dating is increasing in popularity, especially with avid social media users. Subscribers bank their dreams of true love on their online profiles in hopes that their soul mate is just a click away. According to thousands of testimonials, it's not impossible.
The Cons of Online Dating Apps

Bad Intentions
Not everyone online has the best intentions. Some people use online dating apps as entertainment, with no real desire for a relationship. Maybe they're looking to start an affair with a stranger, or they're trying to get back at an unfaithful spouse. Many people want to window-shop out of curiosity or when they're feeling blue.
It's Easy to Get Hurt
Because of dating apps' anonymity, not everyone has noble aspirations of a long-term relationship. With a plethora of stalkers, gold-diggers and even bullying running rampant online, who wouldn't be afraid of getting hurt? No one wants to become a victim of online dating, and an online psychic can offer real-world advice.
Location
The web is a big place, and what if the potential Mr. or Ms. Right is in a different state or even country? Love knows no boundaries, but location may very well become a logistics nightmare, and long-distance relationships can be challenging.
Criminals
Unsavory individuals use dating apps to find potential victims. Whether they are just trying to steal your identity, or they are hardcore criminals, online dating comes with a very real threat of danger.
The Pros of Online Dating Apps

A Large Dating Pool
Online dating is a means to connect with potential mates that you might never encounter in the real world. With compatibility functions, it's easier to find someone with similar interests, values, and goals. The best phone psychics can help you prescreen a potential love interest and speed up the process.
Increases in Privacy
For those of us who are sincere about finding the love of our lives online, developers of popular apps like Tinder and Bumble have taken a more secure approach to online dating by increasing security measures and privacy. Developers also encourage subscribers to take it slow.
Anonymity
Anonymity allows you to be more expressive when you interact with potential mates online. If things don't work out, you don't have to avoid someone at the coffee shop or work. Undesirable suitors are easily blocked or deleted from your life altogether. Just be cautious about oversharing with strangers.
Find Your Soul Mate
If you're genuinely trying to find the love of your life, the best part about online dating is that it may lead to real life dating, too. Online dating is a tool to meet real people who have real feelings, just like you.
If you're still not sure that online dating apps are right for you, remember that your initial risk is low. You'll never know if you don't give it a try!
Share This Page
---
Leave A Comment
You must be logged in to leave a comment. click here to login
Comments