---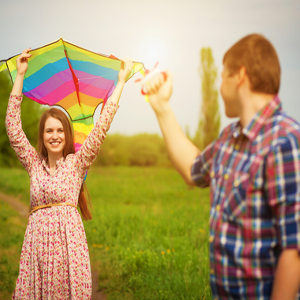 Spring is the season for new relationships, but how can you tell if your spring fling could be something more? If you're falling fast and want to know if he is, too, here are seven ways to know if your relationship is the real thing.
You Call or Text Just to Say Hi
You can't resist calling or texting your guy just to let him know you're thinking of him. If it's a one-sided effort, that might be a sign that he's not that into you. If the constant communication is mutual, though, it's a good sign that you're both into each other. A love psychic can answer your questions about the best ways to communicate with your guy.
He Makes Plans in Advance
If your crush only calls you up when it's late and he's lonely, he may just be into you when it's convenient. If he calls you early in the week or even the week before to set up a date for Saturday night — and maybe Sunday morning, too — he's thinking about you in the future tense.
You Stay in Together
Though you love to go out and show your guy a good time, your plans don't have to be elaborate. You know it's the real thing when the two of you can stay in together, cooking dinner, watching a movie, or getting to know each other better. An astrology reading can tell you more about how compatible the two of you are.
He Leaves Things at Your Place
If he still considered you just a fling, he wouldn't dare leave anything at your place. If he leaves clothing or other personal items at your place, though, you can rest assured that he plans to be back again and again.
He Wants You to Meet His Friends
If he planned to cut off your relationship as soon as the summer cools down, he wouldn't bother to introduce you to the people who mean the most to him. If he wants you to meet his friends and encourages you to get to know his buddies, it's a sign that you mean a lot to him, too.
You're Comfortable Together
When you stop feeling nervous about every word that comes out of your mouth or how you look every second when you're around him, you're finally comfortable with him. This may mean that you don't rush to brush your teeth the second you wake up or you feel like you can discuss tough issues with him. Either way, it means you've left spring fling status behind.
The Future Includes Both of You
At some point, you may not be able to picture the next day, week, or month without him. Though this proves that you've gotten comfortable together, it also points to more. If your vision of the future includes him at every step of the way, it's a sure sign that the two of you are much more than just a spring fling.
Whether it's spring, summer, or fall, these tips can help you determine if your fling is just that or if he's in it for the long haul.
Share This Page
---
Leave A Comment
You must be logged in to leave a comment. click here to login
Comments