---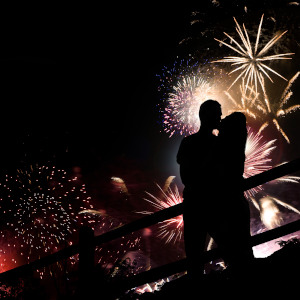 Even the best couples experience a lack of passion at one time or another. Over time, the relationship's initial intensity fades and you're left with something more comfortable, which can seem dull in comparison to the excitement you once felt. Remember, this feeling is perfectly normal and even indicates your growth and commitment.
If you've recently had a love tarot reading and know you need to rekindle the passion before the sky lights up this 4th of July, here are some ways to set off the fireworks.
Prioritize Passion
You can't have a passionate relationship if you don't make passion a priority. Even if you feel like your partner lacks in the passion department, make it a point to treat your partner the way you want to be treated. Far too many couples fall into a routine where they treat each other more like roommates than lovers, so tell yourself you're not settling for that anymore!
Identify Your Passions
You can't expect your partner to show passion if you yourself don't know what turns you on. To experience more passion, you have to be more passionate, which means understanding what excites you, what makes you feel alive, and what forms of affection feel the best.
Identifying your passions can be difficult if you've lost your libido, are struggling with depression, or dealing with a stressful situation. Sit down with your partner and talk about each other's desires. Schedule sex dates if you have to, reconnect with the sensations that turn you on, and communicate those to your partner.
Try Something New
Relationships lose spark because we tend to get in a rut. We wake up, go to work, come home, make dinner, and fall into bed exhausted. Breaking that routine is key to experiencing more passion in your love life. Studies show that trying something new or crazy does a world of good for your relationship. And this isn't necessarily about sex, although trying a fresh position or two wouldn't hurt.
Sign up for an art class together, volunteer at a homeless shelter, engage in a recreational activity you've always wanted to try, or find a new, romantic spot to watch the fireworks. Anything you can do to break up your routine will benefit your relationship in the long run.
Kiss More Often
One of the easiest ways to reignite your love life is to kiss like you did when you first started dating. Couples often enjoy deep, passionate kisses at the start of the relationship, but over time these tend to morph into quick pecks. Make it a point to passionately kiss your partner at least once a day and see how much your relationship improves.
If you're still having trouble finding the passion you once had, chat with a psychic online for more personalized advice. With a little help, you can spark the fireworks of passion before the summer's over.
Share This Page
---
Leave A Comment
You must be logged in to leave a comment. click here to login
Comments