---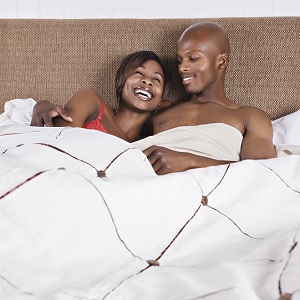 When you've been in a relationship for a while, things can get a little boring in the bedroom because you develop routines. If things have gotten a little predictable between you and your partner, here are four moves to help you change things for the better. Reignite that spark you once had in the bedroom!

Turn on Some Romantic Music
It takes a little extra time to turn on some mood music, but it is well worth the effort. You can stick with the classic romantics such as Frank Sinatra and Barry Manilow or spice things up with some electronica. Music can set lots of moods — you don't always have to stick with slow and romantic. Just choose something that you and your partner will both enjoy. Your psychic will tell you the important thing is that the music sets a mood where you can reconnect and have fun.

Get a New Outfit to Surprise Your Partner
When couples have been together for a long time, they sometimes stop doing things like wearing special clothing in the bedroom. If this sounds like you, go out of your way to choose a fun outfit that your partner will love. Wearing revealing clothing is exciting for your partner because they know something's going to happen. This puts all the attention on you and makes for a great experience. Plus, adding something new to your routine makes things more exciting. You can find great outfits for the bedroom at almost any department store, so this is an easy thing to pull off.

Put New Bed Sheets on Your Bed
It's important to be comfortable when you're in bed and the right bedding can help. Splurge on some silk bed sheets to make your night feel more luxurious. This smooth fabric will feel good on your skin and help you relax. Even just putting on a fresh set of sheets can ignite some flames in the bedroom because everyone likes the clean and soft feel after your bed sheets have been washed.

Try Body Massage Oils or Scents to Set the Mood
The best psychic will tell you to experiment and have fun when you're in bed. You can do this by bringing in things that you don't normally use, such as massage oils or scented candles. Massage oils are particularly fun because they do more than set the mood — they help you reconnect physically. Of course, scented candles are nice because you are able to engage another one of your five senses during the occasion.
Share This Page
---
Leave A Comment
You must be logged in to leave a comment. click here to login
Comments