---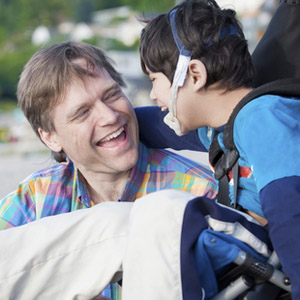 Finding out that your child has a disability is devastating, whether it's a learning disability, a developmental, mental, or physical disability, or something else. You'll wonder why it's happening to your child, to your family, and how you're ever going to cope—but you will cope. In fact, with the right strategies and tips in place, your entire family will thrive.
Think Positively, Not Negatively
This is good advice for life in general. You can't think negatively. You're not being punished and neither is your child. No matter what kind of disability your child has, he or she can still live an adventurous, exciting, and fulfilling life—and as the parent, you can do the same. Get rid of negative self-talk and stop blaming yourself. Don't feel embarrassed if your child has autism and sometimes has an outburst in public. Don't feel like everyone's pitying you when you push your child's wheelchair through the park.
Talk to Someone
You don't have to go through this alone. You may not feel like you can talk to your spouse, your parents, or your friends, however. Maybe they're too close to the situation, or you don't feel comfortable venting to them. Look for an outside source and get an unbiased opinion. The intuition and sharp perspective you'll get from a live psychic will help you cope with the future. A tarot reading can even point you in the right direction.
Plan for Daily Care
Caregivers can give your child some things that you can't. They can also give you a break, which is vital for both you and your child. Accept that help. A nurse or assistant, even the doctors or therapists you see, can give you excellent tips on how to help your child thrive. You'll learn about new games, educational opportunities, and activities that will enrich your child while letting you spend valuable time together.
Find a Support Group for Everyone
The parents of a child with a disability need support. The child needs support as well. Find a group that helps parents cope with the disability your child has, or with issues in general. Talking to other parents and caregivers experiencing the same thing will put things in perspective. You won't feel so overwhelmed or alone either.
Your child needs friends and support too. Even if you don't find a support group, look for a play group or club dedicated to children in your kid's age range. Communicating with peers will keep your child from feeling all alone or different.
Plan for the Future, Participate in the Present
When your child has a disability, you know the importance of taking things one day at a time. You need to set schedules, stick to routines, and always give your child the freedom to make his or her own choices.
At the same time, however, you can plan for the future. You need to know what might happen. A psychic tarot reading can help you here as well. Let it serve as a guideline for the things that may happen, so you know how to prepare. This will make the future richer and more worthwhile for your family.
A disability isn't the end of the world, it just presents a new way of doing things. How do you cope?
Share This Page
---
Leave A Comment
You must be logged in to leave a comment. click here to login
Comments