---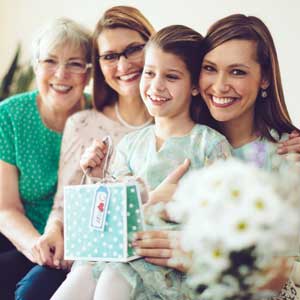 Mother's Day is this Sunday! It's a time to say "Thank You" to the moms in our lives and to reflect back on the joys of being a mother.

To celebrate this special day, we asked our Psychic Source Advisors to share their thoughts and favorite quotes on motherhood and their own experiences being a mom.

Here's what they had to say:
Psychic Nancy x8068
shares a favorite quote: "A mother's love is the purest love of all. We hold our children's hands for just a little while, but we hold their hearts forever."
"As a Mother, your worries blind you from the truth where your child or children see you as a true hero. Never forget how important Mother is in a child's eyes!" -
Psychic Indigo x8897.
Psychic Roxanna x7008
sums up Motherhood nicely: "If it wasn't for my mom I would not be here today! Moms rock!!!"
"To a mother, motherhood is the most beautifully painful love that exists." –
Psychic Agnes x7908
.
Psychic Caron x8188
gives us something to think about: "Childhood lasts only for a small part of a person's life. Being a mother lasts forever. Some of us have lost our mothers earlier than others. All of us still have our mother's words inside of us."
"I was never so blessed as when I became a mom. My whole world changed," remarks
Psychic Lynette x9068
. "There is nothing as strong and beautiful as the love between a mother and her child."
Psychic Heather x7756
shares a popular quote from Abraham Lincoln. "I remember my mother's prayers and they have always followed me. They have clung to me all my life."
Speaking from experience,
Psychic Morganna x9085
says, "Love your children for who they are and encourage them to enjoy being a child. By doing those two little things you have created the foundation for you and your child to have an amazing life."
"As mothers, we are the guideposts for future generations and we hold the balance of humanity in our hands and in our hearts." -
Psychic Rhiannon x7661
.
Finally, many years ago,
Psychic Cory x7690
wrote this short verse to honor her beloved mother Anne:
"She's everywhere I am, dancing in my shadow.

She's in all the steps I haven't taken yet.

She holds my hands and walks me through."

We invite you to share your thoughts and reflections on your mother and the experience of being a mom below.

Everyone at Psychic Source wishes all the moms (and moms to be) a Happy and Healthy Mother's Day 2015!
Please enjoy more Mother's Day quotes and wisdom shared on our Facebook, Twitter and Instagram pages this week and check back here on Saturday, May 9th for a very special Mother's Day story from our own Psychic Moira x7776.
Share This Page
---
Leave A Comment
You must be logged in to leave a comment. click here to login
Comments