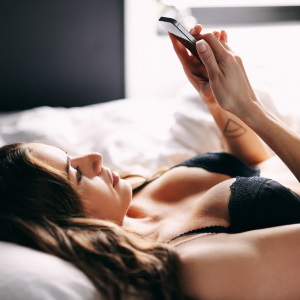 Coronavirus has brought the world to a halt, but that doesn't mean you don't still have needs when it comes to sex and intimacy. With many people avoiding each other in person, sexting, phone sex, and cybersex are an appealing alternative that gives a new meaning to safe sex.
Is It Safe to Have Sex During the Coronavirus Outbreak?
Though it's unclear whether having sex can transmit coronavirus, being in close quarters with someone does put you at risk, depending on your situation. Having sex with someone you live with, for example, comes with less risk than having sex with a new partner. It's up to you to assess your own risk and be honest with partners about what you need to stay safe.
That doesn't mean you have to stop having all forms of sex if you live alone, but you may need to find ways to get intimate without touching. If you're having trouble tapping into your sexuality during the coronavirus pandemic, phone a psychic for instant advice tailored to your needs.
What Makes Sex Safe?
Before the coronavirus outbreak, using condoms and birth control were synonymous with safe sex. Now, you also need to factor in the risk of coronavirus, which easily passes from one person to another during intimate activities, like kissing.
If you're foregoing in-person contact altogether, keep in mind that sexting has its risks too. When sending pictures, it's wise to keep your face cropped out to protect your privacy. Even if you're exclusively using text, talk to your partners about personal boundaries so you can be confident that your conversation will stay private.
Can Sexting Replace Sex?
Everyone has different definitions of what sex means to them. For some people, sexting counts as sex, while others may see it as foreplay. It's up to you to decide whether sexting is a satisfying alternative for having sex. During the coronavirus outbreak, sexting can be a great way to maintain good sexual health until it is safe to have in-person contact with partners.
You Are Your Safest Partner
Sexting isn't for everyone, but that doesn't mean you need to stop all forms of sex and intimacy until the coronavirus outbreak is over. Now is a great time to get to know your body better by trying different ways to pleasure yourself. Try lighting candles, giving yourself a shoulder massage, or reading an erotic book to start your masturbation session off in a sensual way that creates feelings of intimacy with your own body. 
During the outbreak, we can all work together to flatten the curve without sacrificing love and sex. Acknowledging your sexual needs can keep you safe and satisfied, even when you're at home. If you're looking for ways to get to know yourself and your sexuality better, connect with one of our online psychics for a comprehensive reading.