---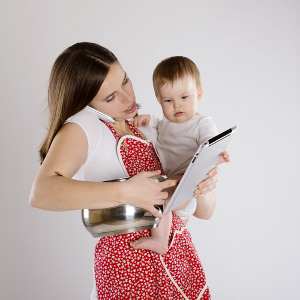 Being a career woman is tough, and so is being a mom. When you're both, it's easy to feel overwhelmed. Keep these tips in mind to keep anxiety in check when you start to feel like you can't balance it all.
Stay Organized
Staying organized is key for maximizing time for your job, your children, and yourself. A good planner can help you keep track of daily tasks and meetings with the schedules for your husband and kids. Having your plan in front of you keeps you organized, and it lets you know when you'll need help. Prepping dinner the night before or using a slow cooker during the day frees up time, too. Having a backup plan in place for when emergencies pop up helps you know who to call right away if someone gets sick or your babysitter cancels.
Make Your Workplace Flexible
While many workplaces might be very by-the-book, take advantage of any flexibility they'll allow you. If it's possible to restructure to a four-day work week, do it. Of course, that isn't always a possibility, so look for flexibility in creative ways. If your daycare is nearby, visit your kids during lunch. A phone psychic can help you find areas to carve out flexibility while you're on the go.
Conquer Your Guilt
Working moms often feel guilty for missing time with their kids. Presenting ground rules at work, like making it to school functions no matter when, will help you spend important time with your kids. And focusing on the positive will help ease some of the stress. Accept that no matter how many hours you work, your children will still see you as their mother and love you for it.
Trust the Importance of Sleep
Setting good sleep habits at an early age will help your kids get enough sleep. Kids are healthier when they get the sleep that they need to thrive during the day. Likewise, research shows that getting enough sleep greatly improves an adult's level of functioning, too — meaning you can get more done with less effort during waking hours. If your kids aren't good sleepers, take shifts with your partner to make sure you both get a decent amount of sleep each night.
Get Help When You Need It
Accept that you can't do everything yourself. Turn to other working moms for help; they'll understand your situation. Treat your nanny well and pay the babysitter a competitive rate, if you can manage. Take advantage of offers to help from your family when you can, and do it with kindness. Chat with a psychic online to find people willing to help you might not have considered.
Slow Down and Make Memories
Take a few minutes each day for yourself, either by treating yourself to something you enjoy or speaking with someone you care about outside the family. It will help you feel recharged. And if work allows it, take a surprise trip (even a short one!) once in a while with your family. You'll make fun memories while getting in some much-needed downtime with your partner and kids.
It's important to balance your time between work, family, and yourself. Doing so will create a better environment in all aspects of your life.
Share This Page
---
Leave A Comment
You must be logged in to leave a comment. click here to login
Comments