---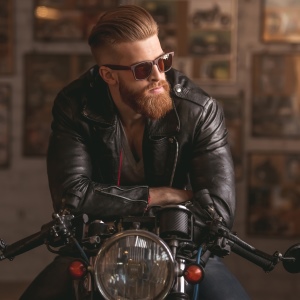 For most people, dating one or two "bad boys" is inevitable. The relationship may not last long and it may not end well, but there's nothing wrong with adding a bad boy or two to your dating roster.
Others, however, pair up with one bad boy after another, which always seems to start with heart-pounding excitement and end in heartbreak. Learn what's so alluring about bad boys despite all the red flags and find out how you can break free of their seductive spell.
What's So Hot About Bad Boys?
Sure, bad boys have plenty of unique characteristics that draw you to them, but they also tend to have a few common traits that get your attention. First, they're confident. They never have to wonder whether they're doing the right thing to get your attention because they already know you're interested. Their extreme confidence tends to lend itself to a surplus of sex appeal, which isn't easy to ignore, even if you've tried to tell yourself that you aren't interested.
Bad boys often seem unattainable, so when they send interested vibes your way, you can't help but feel excited. You might even start to sense your heart beating faster as you sense the thrill factor. You already know that they're experts at seduction and making you feel like you're the only woman in the room, but who wants to shrug off all that attention?
Why You Can't Resist Bad Boys
If you've fallen into a pattern of dating one bad boy after another, you know that there's more to them than meets the eye. If you love helping people live their best lives, you may not be able to resist the allure of getting close to a man with a broken past and helping him heal. Any love psychic can tell you that this doesn't make for a healthy relationship, but that may not stop you from trying.
If you've tried dating other men and found yourself bored, you might not be able to resist the roller coaster of emotions that bad boys create. Naturally, the lows can be devastating when you're with a bad boy, but they make the highs of the relationship seem so much more intoxicating.
How to Put Bad Boys Behind You
If you desperately need some balance in your love life, it's time to put bad boys behind you. First, establish some personal boundaries regarding conduct and contact. Make sure that any love interest understands where you draw the line, and don't hesitate to show him the door if he fails to meet your standards.
Next, know that you deserve the level of commitment and love that you want, and understand that bad boys can't offer either. If you aren't sure whether your dating perceptions match up with reality, get a second opinion from friends and family. They can also help you identify and eliminate bad boys from your dating pool before you get hooked.
Ultimately, getting over bad boys is all about staying true to yourself. Get a psychic reading to better understand what you need from bad boys and learn how to put them behind you for good.
Share This Page
---
Leave A Comment
You must be logged in to leave a comment. click here to login
Comments