---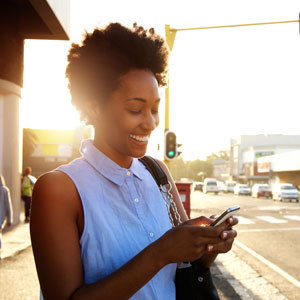 Long-distance relationships are tough. Fortunately, our digital world makes it easier to sustain a long-distance relationship. Today you can call, text, share things on social media, and video chat. If you both lead busy lives, a quick way to maintain that connection is through daily texts. Here's how to use the simple text message to keep the relationship alive.
Start and End Your Day With a Text
For most couples in love, the object of their affection is the first and last thing they think of when they wake and before they go to sleep. Rather than consult a love psychic to confirm you're thinking of each other, let your partner know by starting and ending your day with a message. Just a simple "good morning" and "good night" is sweet and nurtures closeness.
Share Life Updates
On busy days, it's easy to resort to short texts or not text at all. Becoming distant during bad times causes the other party to feel insecure. Remember, your significant other isn't a mind reader. Unless they've called the psychic hotline for some insight, they don't know what you're going through. Share your news and update each other on your activities. Tell them your boss drove you nuts, that your car broke down, or that you're cooking a meal you both enjoy.
Send Flirty Messages
The lack of physical contact can take a toll on the relationship. You still need to keep the spark alive in a long-distance relationship. So don't be shy to send flirty messages and do a bit of sexting. It's vital to inject some playfulness into a long-distance relationship. However, before you start knocking out the hot and heavy messages, make sure to set some boundaries beforehand that you're both comfortable with.
Send Photos
Smartphones are a lifesaver for the long-distance couple. You can take photos on the fly and your partner can see exactly where you are and what you're doing. So take advantage of photos and selfies. Men, in particular, are visual creatures. He'd love to "see" you. A quick snap of you heading to the gym or dressed up for a night out keeps him interested. Make sure you add some sexy photos to your flirty texts to keep the fire burning.
Keep the Humor Going
A long-distance relationship doesn't have to be filled with endless soppy, mushy texts. Text with your partner just as you would talk to them face-to-face. See something funny? Tell them about it and you can both double up laughing over it. Send funny memes or private jokes that only the two of you get. Humor is so important in relationships. LOLing together helps keep the relationship healthy and vibrant.
Texting may seem like a weak form of communication compared to video chats. However, it all depends on how effectively you're using it. A daily message keeps you both connected and can put a smile on your face in the middle of a difficult day.
Share This Page
---
Leave A Comment
You must be logged in to leave a comment. click here to login
Comments