---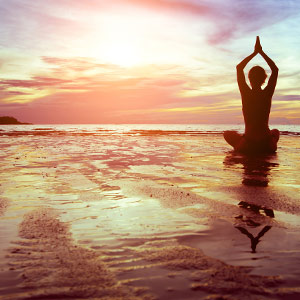 By giving back to nature, you can do so much to soothe your soul and fulfill your own life. Giving back always results in getting back more than you've given, often in ways you never expected. Enrich your own life by doing everything you can to improve the world around you, and remember that no gesture is too small.
Go Greener
Going green is one of the best ways you can give back to the Earth. This doesn't mean that you have to transition over to solar power, although that's certainly admirable. The thing is, even small acts of environmental kindness will help you. Start a recycling program, and urge your neighbors to do the same. Carry reusable bags when you shop, and refuse paper or plastic bags. Try to cut your own carbon footprint by making healthier choices, such as riding your bike or walking instead of driving everywhere.
Try Meditation
Meditating outside, surrounded by the beauty of nature, is a rich way to give back and soothe yourself in the process. You're putting good vibes out into the world, and it doesn't cost you a thing. If you need help learning how to meditate, talk to an online psychic. Your psychic can first help you center yourself, so that you're able and ready to meditate, and can share some beginner techniques to get you started on the right path.
Plant New Life
Increasing nature's bounty improves your karma in a number of ways. It's good for you, your family, and the environment. Surround yourself with vibrant greenery by planting flowers, trees, vegetables, and fruits wherever you can. Start in your own yard, if possible, or join a neighborhood co-op. You can even donate a tree, or join a charity that plants trees in the areas that need them most.
Support Farm-to-Table Endeavors
You might not think you're giving back to nature by shopping from local farmers, but you're doing so much for the environment. Farm-to-table food sources are increasingly popular, and they're beneficial to everyone involved. You're cutting down on the carbon emissions it takes to transport food, plus you're supporting local businesses and making healthier choices at the same time.
Start Volunteering
There are many ways to volunteer that will give back and support the environment. Phone a psychic and discuss how you'd like to give back, then talk about what would make you more fulfilled. Your psychic can help you come up with ways to soothe yourself by giving back. Picking up litter in the park might help you the most, or perhaps you'd like volunteering at a local garden. Then again, you may prefer opportunities on a larger scale, such as assisting with the damaging effects of an oil spill or planting trees and produce yourself in an underprivileged area.
When you give back, you receive more than you ever imagined and your good deeds resonate throughout your entire life. Have you ever considered the advantages of putting your energies toward good deeds to make yourself more fulfilled?
Share This Page
---
Leave A Comment
You must be logged in to leave a comment. click here to login
Comments