---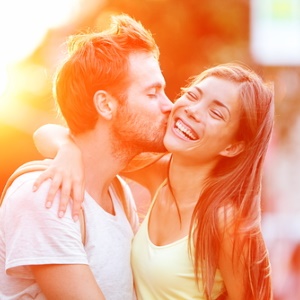 When you and your partner start to get comfortable in your relationship, it's not uncommon to fall into a rut that's challenging to emerge from. Whether the daily grind has gotten to you both, you can't stop arguing about the same old things, or communication has become a problem, there are many ways to improve the situation. Learn how to work on your relationship, leave the rut behind, and strengthen the great partnership you already have.
Listen to Your Words
Many couples fall into a communication rut, where you can't stop yourself from bringing up tired topics, arguing about the same old things, and simply tuning each other out. Instead of letting routine guide your conversations, stop to listen to yourself and to your partner. Be mindful of the tone and the words you use when you talk to each other.
Rather than letting your conversations take old, familiar roads, rethink where you want your conversations to go and how you can guide them effectively. Try to stop focusing on the negative aspects of your interactions with your partner, and highlight the positives to give an old topic a fresh, new spin.
Rekindle Your Connection
When your kids have taken the front seat in your relationship or your romantic routine has simply started to become stale, it's time to rekindle the connection you have with your partner. Start small by setting aside short blocks of time to have important conversations, enjoy a meal together, and connect physically. If you're not sure where to start, get a love tarot reading to learn more about what lies ahead for your love, and focus on achieving the positives.
Try Something New
When life gets busy, sometimes the best way to carve out time for yourselves is to schedule a weekly date night. While this is a great idea in theory, even date night can fall into a rut if you're not careful. Instead of keeping up the same old routine, try some new things. Schedule dates for different nights each week, plan daytime dates instead of late-night ones, or think about staying in to focus on each other rather than going out.
Don't Be Afraid to Fantasize
The daily grind can get to everyone. Between overtime at work and endless chores at home, you might resort to turning on autopilot just to get through the day. To get out of the rut of mindlessly going through your day, make a point of fantasizing with your partner.
Together, dream about what you'll do once you get through the busy period at your job, once the kids reach school age, or once you've paid off that looming debt. Talk about fun activities you'd like to do, trips you want to take, and ways you'd like to improve your lives. Then make some of these dreams a reality, and work on accomplishing them together.
Don't let a relationship rut ruin a wonderful partnership. If these steps don't come naturally to you, talk with an authentic psychic to work through the issues and come out stronger on the other side.
Share This Page
---
Leave A Comment
You must be logged in to leave a comment. click here to login
Comments