---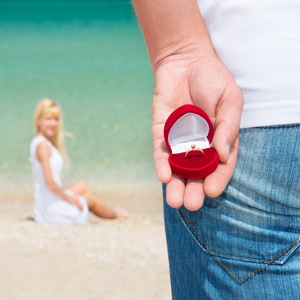 Are you secretly dreaming of walking down the aisle and wondering whether your other half shares your dreams? If your boyfriend is thinking of popping the question, his actions will often give you a clue. Here are seven signs that could mean he's about to get down on one knee.
Saving Money Becomes an Issue
Is your partner suddenly concerned about saving cash? Perhaps he's keen to cook a meal at home instead of dining out. If penny-pinching is unusual for him, this could be a sign that he's recently splashed out on an engagement ring. It's either that or he knows that the average cost of a wedding runs to about $30,000.
He Talks about the Future
If your boyfriend starts slipping comments about the future into your conversation beyond what you're doing next weekend, there's a good chance he's going to propose. Listen for topics such as where you'll be in five years, your ideal home, and what you think about having children.
Other People's Weddings Interest Him
If the prospect of an open bar is not the only thing that excites your man about weddings, it could be a sign that he's having thoughts about his own big day. You should especially listen out for so-called theoretical questions about which wedding song you'd like and how many bridesmaids you want.
You Notice Secretive Glances
Are there some strange looks going on between your partner and your friends and family? There's a good chance he's already made up his mind to make you a permanent feature in his life and your loved ones are in on the secret. You won't need psychic abilities to work out that they're helping him plan the event.
He's Behaving Strangely
Asking someone special to do the honors is a major milestone in anyone's life. If your boyfriend is hoping you'll agree to become his wife, it's likely that he's feeling nervous about it. Wouldn't you be? You'll have to excuse his skittish behavior while you wait for him to pluck up enough courage to go through with his plans.
He Plans a Weekend Away
Has your partner surprised you with plans for a romantic weekend away? Whether it's a trip to Paris, somewhere you have always dreamed of visiting, or some place that is special to you as a couple, he could have something more than a few saucy nights away in mind.
He Books You an Unexpected Manicure
A UK study found that 17 percent of men completely gave the game away by suggesting their would-be wives get a manicure. Despite ruining the surprise, it's actually sweet and thoughtful. He knows you'll want to take pictures of the ring and wants you to look beautiful.
Not all of these signs mean you're about to become a bride, but if you notice a few different clues, you should probably start checking out dresses. If you want further insight about whether you and your partner have a long-term future, chatting with a love psychic can help.
Share This Page
---
Leave A Comment
You must be logged in to leave a comment. click here to login
Comments