Getting Married Soon? How a Psychic Reading Can Help You Prepare for Your Special Day
Published Date 4/17/2018
Category: Love, Relationships & Family
---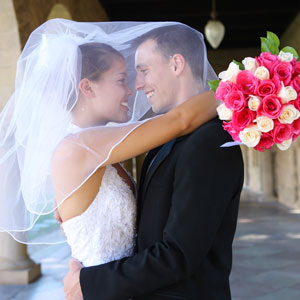 Whether you're hoping for a simple ceremony or you're designing an elaborate event, planning a wedding isn't always straightforward. For many couples, the wedding-planning process can be downright stressful. If you're getting married soon, find out how a psychic reading can make your special day even more beautiful and meaningful than you imagined.
Selecting an Auspicious Date
If you're struggling to choose the perfect date for your special day, a psychic might be the ideal person to ask for assistance. After all, many dates are considered auspicious for everyone, while other dates have particular meaning for people with certain astrological signs. With the help of an online numerology reading, a psychic can even assess you and your partner's birth dates to determine how certain wedding dates might impact your relationship.
Choosing the Ideal Venue
Location, price, and availability all factor into choosing the ideal venue for your special day. What if you're deciding between two venues or one gives you a strange vibe? A psychic adviser can help you think through your options and make an informed choice. Whether you're trying to decide between a local and a destination wedding or an indoor or outdoor venue, a psychic can guide you through what often seems like the most important decision of the entire event.
Fine-Tuning the Guest List
Until you've planned a wedding or two, it's tough to understand how difficult developing a guest list can be. On the one hand, you might want to invite everyone who's ever made a difference in you and your partner's lives. On the other hand, your partner may prefer an intimate ceremony with a handful of important people. Talking through your guest list with a trusted psychic can help you understand who you truly need to invite and why.
Anticipating Challenges
Even small weddings tend to have their fair share of challenges, but if you have your head in the clouds on your special day, you might not be prepared to deal with them. When you simply want to enjoy your wedding day, you might not be equipped to handle even minor setbacks. After a psychic reading, you'll have a grasp on the interpersonal issues you may have to deal with, and you'll be able to devise a plan to meet challenges while staying happy and grateful.
Coming to Terms With Your New Role
If you've been with your partner for a long time, transitioning from a boyfriend or girlfriend role to a husband or wife role might not seem like a big deal. However, most people find that their relationships do change, as they begin thinking further into the future, making plans to expand their families, and setting goals as a team. Talking through these changes with a psychic can help you set your expectations appropriately and look forward to your new life with renewed excitement.
Rather than giving into the stress of wedding planning, try turning to a trusted adviser instead. A psychic phone reading can help you get over any jitters you might have and encourage you to approach your wedding with genuine joy.
Share This Page
---
Leave A Comment
You must be logged in to leave a comment. click here to login
Comments