---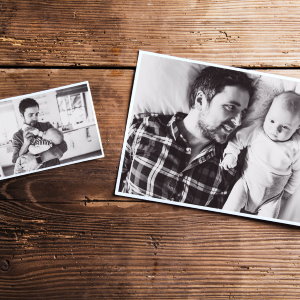 Your first year as a father is a memorable one. Make sure you celebrate that first Father's Day with meaningful activities or special outings. Honor your new fatherhood, enjoy your expanded family, and include a little time to pamper yourself. Happy Father's Day! You deserve it.
Make a Keepsake
Your first year of fatherhood is filled with wonderful moments, but the hectic pace can make it difficult to capture them. In a few years, it will seem almost impossible to remember things like how tiny your baby's hand or foot was. Celebrate Father's Day by creating a sweet keepsake that keeps those memories alive. Consider putting your baby's handprint on a baseball or his footprint on a stepping stone for the walkway. These types of items will help you remember your first Father's Day forever.
Have a Photo Shoot
Plan a photoshoot with the family to commemorate your first father's day. Consider including your own father and grandfather if you can for a stunning photo of all your family's generations. You can hire a professional photographer or simply recruit a friend or family member. Thanks to today's photo editing tools, you can get great shots either way.
Look to the Future
Take a moment to contemplate the future you envision for your child. Consider writing a journal entry or a letter to your baby for their own first Mother's Day or Father's Day. To make it more fun, you might get a live psychic reading or try a tarot reading to see what's in store. You can look back on these later and contemplate how the predictions played out.
Plan an Easy Outing
In most areas, the weather for Father's Day is warm and sunny. Consider taking a short trip with your family that lets you enjoy the outdoors. Take a walk in the park, plan a picnic, go to the beach, or head out on a bike ride with baby in a bike seat or trailer. Look into some of the unique family-friendly attractions in your area for other ideas, such as a botanical garden or zoo that your family might enjoy.
Make Time for a Date Night
It's difficult for new parents to find quality time together. You don't have to dedicate your whole Father's Day to time with your baby. In fact, some time away could be just the reward you need to help celebrate the occasion. Perhaps grandpa will want to spend some of his Father's Day with your child while you take the evening off to enjoy a quiet meal with your partner. Remember that this day is ultimately about finding the best way to treat you as the new dad.
Take some time to think about how you want to celebrate your first Father's Day so you can make this a special occasion that you'll look back on fondly for years to come.
Share This Page
---
Leave A Comment
You must be logged in to leave a comment. click here to login
Comments