---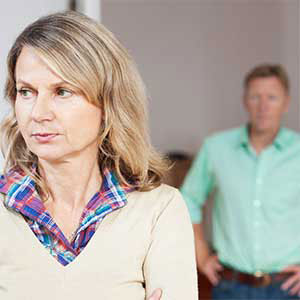 You just got divorced. Eager to get on with your life, you consult an online psychic to see if romance is in the near future. Jumping into the dating pool might seem like a good idea to move on or ease the loneliness. But hold your horses. More likely, you're heading for a rebound relationship. Rebound relationships are usually knee-jerk reactions to breakups and seldom end well. Here's why, and how, to avoid the rebound effect.
Take Time to Grieve
Divorce is never easy. Not only are you dealing with legal matters but also battling the emotional blowout. The Holmes and Rahe Stress Scale lists divorce as the second most stressful life event, after the death of a spouse. With divorce, because the spouse is still alive, few realize it is also a loss that needs grieving. Despite well-meaning friends urging you to "get back on the horse" and start dating, don't rush it. Only time heals the wounds of grief. Rushing into a rebound relationship only delays the crucial grieving process.
Don't Make Emotional Decisions
During the raw and painful aftermath of a divorce, you're a swirling mess of emotions. You're hurt, angry, lonely, and feel like a failure. You might want to dive into a new relationship to prove you're still attractive. Maybe it's revenge — the satisfaction of showing your ex that you've found someone else. Whatever the motivation, it's an emotional decision. Emotional decisions are usually hasty and not rational. This is a surefire way to choose the next Mr. or Ms. Wrong.
Rediscover Yourself
In a long-term marriage, most people find themselves caught in the roles of spouse and parent. They lose themselves along the way. This leaves many feeling lost when the role of spouse ends. It's another reason people latch on to someone too soon. They've forgotten how to exist without another person and think a new person will fill the emptiness. However, this is the best time to focus on you. Pick up an old hobby or explore new activities. Spend time with friends and, most importantly, spend time alone. Be comfortable by yourself first before being with someone else.
Meet New People
If you've worked your way through the muck of your divorce, it's time to get out there and meet new people. Yes, this could include dipping your toe in the dating pool. Seeing what the cards say in a love tarot reading might be just what you need. Psychology Today reports that those who are more emotionally stable after a divorce cope better with a new relationship when newly single. Dating can boost your self-esteem and confidence. So dating soon after a divorce, under the right circumstances, can help you move on with your life in a healthy way.
The world has sped up, and we live in an instant age. It's no surprise then that many people also feel the need to hurry the healing process when it comes to loss. Some things just can't be hurried. Taking the time to heal fully when a marriage ends takes time. Give yourself that time. It will help you choose your next partner more wisely.
Share This Page
---
Leave A Comment
You must be logged in to leave a comment. click here to login
Comments