---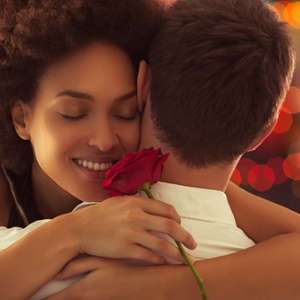 Though it's supposed to be a day of romance, Valentine's Day can become stressful for many couples. Focus on what makes this day so special: your love for that special person in your life. Instead of getting expensive but impersonal gifts or spending a lot on a fancy night out, take the time to come up with something truly personal.
Leave Private Messages
There's nothing like discovering a hidden message that says "I love you." Instead of going for the typical greeting card or box of chocolates, leave messages hidden for your special someone to find. There are countless creative ways to do this. Get a bar of soap and carve it into the shape of a heart, then tuck it into the shower when your partner isn't looking. You can also get a washable red marker (just make sure it's not permanent!) and write love notes on the shower tiles.
You can move to other parts of your shared space, too. Buy a washable window writer and write "I love you" on the odometer glass in your special someone's car. You can also get a helium balloon and write something sweet in marker, then tuck it into the clothes closet or somewhere else your love will find it when they're getting ready for their day. Get a tarot love reading to get some interesting ideas to impress your partner.
Tell the World
You can also go more public with your special messages. If you're lucky enough to have snow on the ground this Valentine's Day, use it to create something special for the world to see. You can use red food coloring or red spray paint to draw a heart and then write in your message. Everyone passing by will see the love you have. Don't worry if there's no snow. Instead, cut out big letters in cardboard and put it up on your garage or front door.
Go on a Date at Home
You don't have to spend a ton of money to have a fancy date. Instead of going out for an expensive, impersonal dinner, have the date at home. Get dressed up as if you were going out, though, and make the most of an intimate evening.
You can cook or bring in dinner. Treat it like a night out, but one without the stress of waiting for reservations, going over budget, or impressing anyone other than your love. Keep the night strictly for the two of you for a unique and personal Valentine's Day celebration.
A Gift to Remember
If you're looking for a special gift, take the time to find something that has special meaning for your relationship. An online psychic can help you figure out something unique. Don't just get the hottest new tech gadget or other trend. Instead, find something that recalls an older time or that evokes a shared joke. You can bring in a personal touch on any budget, and it will mean so much more to your partner.
Getting creative on Valentine's Day will make for a memory that's more special than an expensive but impersonal night. Bring in personal moments to show your love.
Share This Page
---
Leave A Comment
You must be logged in to leave a comment. click here to login
Comments