---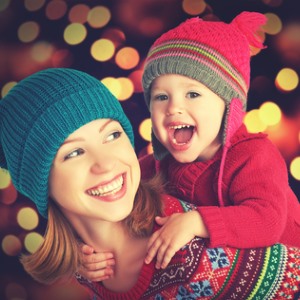 Friends and relatives gather together to celebrate the season and each other. From Christmas to New Year's, many are traveling across the world to be with their loved ones. Whether you're hitting the road or staying close to home, there are many reasons why this is a great time to enjoy the family.
Traditions
Every family has their own traditions. Some of these are strongly rooted in the religion the family practices. Hanukkah brings relatives together with eight days of being home with those you love. Some of the standard traditions include lighting the menorah, eating traditional foods such as latkes, and playing games.
Kwanzaa comes during the same time of year and is observed from Dec. 26 to Jan. 1. Many of the traditions of Kwanzaa focus on camaraderie and conversation. Each day of the celebration represents a different principle, including unity, self-determination, responsibility, cooperative economics, purpose, creativity, and faith.
Christmas offers a time for families to gather, with traditions that range from lighting the Christmas tree to consulting with a live psychic. Unlike some of the other winter holidays, Christmas brings traditions that vary significantly from family to family.
Reconnect
Whether you celebrate specific holidays during this season or not, many families around the world use this time of year to reconnect with their loved ones. Getting together for feasts and celebrations allows you to talk with those you love and see people you haven't seen since last year. It's this time of year that many cultures and religions focus on reconnecting, as it's an important part of many holiday celebrations.
Self-Reflection
If you find yourself becoming introspective during the holidays, don't worry. While celebrations are certainly a time for family and traditions, it's also important to take some time to reflect on yourself. In fact, this is the basis of coming up with New Year's resolutions each year. Take the time to look back over the year and take a glimpse toward the future. Consider getting an astrology reading to find the specific areas of your life you should work on. Make a list of things you want to accomplish and keep it close through the coming year.
Enhance Bonds
Getting together for holiday celebrations allows you to enhance the bonds with those around you. This is different from reconnecting. When you're enhancing bonds with those you love, you're getting a deeper understanding of them as a person. Open yourself up to learning more about the people in your circle. It isn't always easy to expose yourself this way, but it's an important part of growing as a person. Take the time to really connect with someone new, improving your life and theirs.
The holidays mean something different to everyone. However, in cultures around the world, the time from Christmas to New Year's has become a beacon of love, hope, and togetherness. Don't give in to the holiday blues. Instead, look into your past and toward the future to help yourself grow.
Share This Page
---
Leave A Comment
You must be logged in to leave a comment. click here to login
Comments