---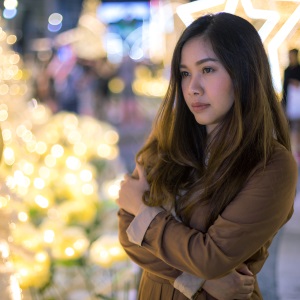 While the holidays are usually thought of as family affairs, many of us end up spending them alone. Maybe a trip home isn't in your budget this year? Whatever the reason, if you find yourself on your own, don't turn into a hermit during the holiday season. Here are some helpful coping skills when you find yourself alone during the holidays.
Focus on the Present
For most of us, the holidays bring back memories of family traditions, and those thoughts may bring us down. Try keeping your focus on the present, and don't worry about the future. A call to an online psychic may help you draw your attention back to the present and offer inspiration for the future.
Indulge Yourself a Little
Nothing says holiday like a little indulgence. If funds are too tight to travel, consider cooking yourself a gourmet meal, or purchase yourself that special something you wanted but couldn't justify until now. How about a trip to the day spa or a mani/pedi? Treating yourself kindly will go a long way to hold back those holiday blues.
Don't Feel Trapped by Expectations
Ignore that holiday hype that floods us during the holiday season. Most celebrations aren't as magical as the commercials portray, even with friends and family around. What you're feeling is ok, whether you're sad or cheerful. The important thing is you can still enjoy yourself, without that warped sense of forced merriment.
Help Others
Remember what the holidays are really about and consider helping others this year. Visit a nursing home, volunteer at an animal shelter, or serve a holiday meal to a homeless family. Whatever way you choose to give back, you'll feel good about yourself, and those in need will appreciate you, too.
Pick Up the Phone
You might not be home in person, but that shouldn't stop you from reaching out to loved ones. With today's social apps like FaceTime and Snapchat, it's never been easier to join the celebration even miles away. Send an email or message family and friends on Facebook. A char with a live psychic will uplift your spirit and give you a plan to look forward too.
Decorate Your Home
Even if it's just you, decorating your home is a great way to celebrate the holiday. Put up a Christmas tree and place gifts from far away relative underneath. String festive lights on your porch or throughout the house to inspire good cheer. Decorate yourself by getting dressed up in your most festive attire. Laying around in pajamas all day will only reinforce melancholy feelings.
Have a Plan
Make a to-do list of things that are important to you, and cross some of them off for instant gratification and to keep your mind occupied. Binge watch your favorite TV shows and watch all your favorite holiday movies.
While you may have to spend the holidays alone, that doesn't mean you have to feel lonely. Stay focused on meeting your own needs. You'll be surprised at how much you end up enjoying the holidays, and they'll soon be over.
Share This Page
---
Leave A Comment
You must be logged in to leave a comment. click here to login
Comments