---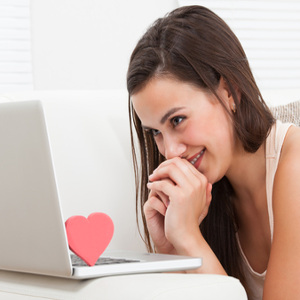 According to a study conducted by the Pew Research Center, 11 percent of American adults have used a mobile dating app or an online dating site. In doing so, these people have helped to remove the stigma once attached to online dating. If you're thinking of giving it a try or have already dipped your toe into the water with little success, you may try to find ways to create or improve your profile. The study showed that one in five online daters enlist a friend to help, but you might also consider asking a psychic. Here are four ways this might help.
Choosing the Right Picture
A picture really can say a thousand words, but you need to make sure that your profile picture is saying the right things. You can follow the obvious advice, which includes using an up-to-date picture and not using editing software to enhance your looks, but a psychic can help you take things one step further. Letting a clairvoyant see a few of your snapshots will allow her to hone in on which one represents you best.
Playing on Your Strengths in Your Bio
While your stats give a quick snapshot, your bio is your chance to go into further detail about what makes you tick. It's also an opportunity to describe the sort of person that you'd like to meet. This is an area where a psychic can help. She might have insight into the person that's destined to become your soul mate and can help you highlight the qualities you have that are most likely to attract a partner.
Knowing Where to Look
An authentic psychic can often see details about your future partner. This may include specific images or details of interests and qualities they may have. Knowing this information may help you to decide which people are worth contacting. That's not to say you should rule someone out if they have brown hair instead of black or work as a banker instead of a plumber, but if you have plenty of potential partners to look at, it may help you target the right ones first.
A Little Extra Help
Perhaps the most interesting part about talking to a psychic medium is that you never truly know what sort of information and insight it will bring. Clairvoyants, in particular, can often see things that other people can't. The key thing is that you go into a psychic reading, whether online, over the phone or face to face, with an open mind. Be willing to listen to the information that your chosen psychic is telling you.
Why not go ahead and ask a psychic to help you with your dating profile? It might not only up your game but also bring results you have barely dreamed of. Your soul mate could be the next person you look at online. It would be horrible if you missed out simply because you don't really know what you're looking for. Speak to a psychic today, and you never know what tomorrow will bring.
Share This Page
---
Leave A Comment
You must be logged in to leave a comment. click here to login
Comments