---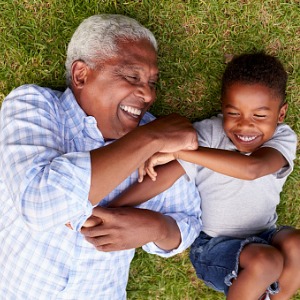 If becoming a parent took you on an emotional roller coaster ride, you're likely to find that becoming a first-time grandparent can be an even more exhilarating, terrifying, and heartwarming experience. Anxious that you won't know how to step into your new role? Learn how to navigate some common challenges and find out how to become the grandparent you want to be.
Create Memories
As a new grandparent, recording your memories for posterity is one of the best ways to show your love for your grandchild and the new parents. After all, new parents rarely have the time or mental energy to remember how they felt when their child was born. Months or years down the road, however, the whole family will love re-reading your thoughts and feelings about the day your grandchild was born.
Handle Practical Tasks
Keep in mind that the new parents may choose a parenting method that's very different than the approach you took. Rather than offering unwarranted feedback or criticism, try to focus on providing practical help instead. Consider taking charge of tasks like laundry and grocery shopping, and reserve commentary for a friend or an unbiased advisor like a video psychic.
Let the New Parents Sleep
No matter how much you want to bond with the baby or connect with your children, try to keep the new parents' needs in mind, especially during the difficult first few months. Offer to watch the baby, run errands, or do anything helpful that allows the new parents to squeeze in a nap. Remember how difficult life can be with so little sleep, and rest assured that every little bit helps the new parents enjoy their newborn even more.
Think Twice Before Sharing Photos
If you can't get enough of your grandchild's adorable expressions or the way she looks just like your daughter did as a baby, you might not think twice about snapping photos and sharing them on social media. Before you broadcast them to the world, however, check with the new parents about their preferences. Whether they want to share their joy with everyone or they would rather have privacy, do your best to respect their wishes.
Stock up at Home
When your grandchild is still a newborn, you can expect to spend most of your visits helping out and cuddling the little one at the parents' home. Once the parents feel comfortable traveling with a baby, however, you'll want to make sure your home is ready to welcome a baby. Make the trip easier on the new parents by having a playpen or a collapsible crib on hand, along with a spare highchair and basic baby supplies.
Above all, allow yourself to revel in the joy and love around you and strive to help the new parents do the same. They may be too overwhelmed to reciprocate your happiness, but sharing your joy with an online psychic or dear friend can help you process your emotions and experience this exciting time to the fullest.
Share This Page
---
Leave A Comment
You must be logged in to leave a comment. click here to login
Comments