---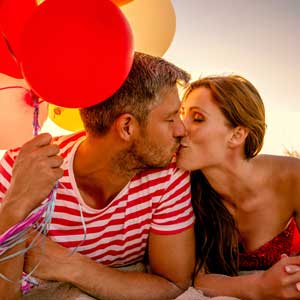 If your last marriage didn't work out, you might start to think that you're not husband material. However, there could be various reasons why your marriage didn't work out. Maybe she started seeing someone else, or perhaps you didn't have the same goals in life. Regardless of the reasons, you don't have to let them hold you back from marrying in the future.

Once you find a woman you can trust and cherish, you might start thinking about tying the knot - but can you be a good husband? Don't let yourself assume that you aren't husband material because your last relationship ended in divorce. Take the following advice into account to be the best spouse possible if you decide to get hitched.

Buy Her Flowers
Although it might seem silly and ineffective, Redbook magazine recommended buying your woman flowers as an occasional surprise. It's these types of small tactics that can show her that you care and appreciate her in your life. In turn, your relationship will be stronger as a result of the small gestures.

Unplug Yourself
If you're the type of person who always needs to be connected to the Internet or a mobile device, make a promise to yourself to stop once you get hitched. Saying no to technology once in a while to spend quality time with your wife can go a long way. This can give you more
opportunities to bond and get to know each other on a deeper level.

Find Out What Makes Her Tick
What makes your partner get up in the morning? What are her true passions? These are all things you should know about your significant other, especially once you decide to spend the rest of your life with her. Contact our psychic line to learn more about how she works. Our love psychics can give you a better idea of her inner motivations and deepest feelings about your relationship.

Don't Make Comparisons
The Daily Herald reported that it's best to avoid comparing your partner to your ex or bringing up previous experiences. This can not only make her feel uncomfortable, but encourage her to think that she isn't good enough for you. Make sure you handle your divorce proceedings in a practical manner and leave your past in the past.

Take On Small Tasks
Doing small tasks around the house such as making dinner or vacuuming can dramatically improve her day. Giving her one less thing to do can help her appreciate you and your relationship as a whole. Although it may not seem like much, it's these types of decisions that you make that will enhance your marriage. If you have some free time, consider asking her if she needs any help with errands or other household chores.

Whether you want to pop the question as soon as possible or you're just thinking about it, these key tips can help you be a better husband. Don't let your past have a negative impact on your future!

Share This Page
---
Leave A Comment
You must be logged in to leave a comment. click here to login
Comments