---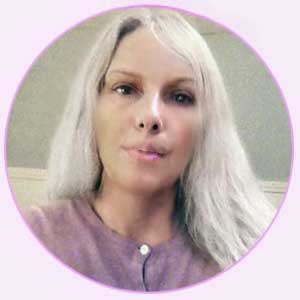 Meet Sandy.* She's more like you than you think.

She doesn't have a ton of money to chat with psychics all day and she wasn't always an avid customer. In fact, she substantially doubted their credibility at one point in her life.

Sandy is a woman in her 50's who's been through a lot. Her husband passed in the mid 90's, leaving her to care for their disabled daughter. She then endured an emotionally (and eventually physically) controlling relationship for over 10 years from which she fled and moved to another state with family. Sandy now lives with her daughter and has a steady job.

You might be thinking "I'm not like Sandy!" But wait…
Sandy wants someone to love. And someone who loves her back. Not the kind of love she has for her daughter or her family or herself—she's got all of that (and she's grateful). She's a confident, hardworking, charismatic woman. But as much as we don't want to admit, there's a hole to be filled when you're missing romantic love. It's that thing that if you've got it,
everything's going to be OK
. But if you don't have it you wonder,
is everything going to be OK?
Whether you're 25 or 48 or 76 years old,
if you're single, finding love isn't easy
. Now imagine you've got the normal stresses of everyday life plus the baggage of past relationships, emotional walls, children…and you're supposed to juggle the dating scene? HA! Well, Sandy's doing it quite gracefully and says she couldn't have hung in there without the help of
Psychic Source Advisors
.

How is a psychic going to help me find the love of my life?

You might now be wondering that question. Well, you'd be surprised. Sandy's got a pretty good system involving several psychics, an online dating profile, and a handful of Mediterranean men.
"You're going to have to choose between two different men,"
Psychic Noah
told her in 2014 and
Psychic Heather
confirmed. Sandy didn't believe them. "I'm a one-man kind of girl, that doesn't make sense. I wouldn't date two men at the same time." Sure enough, by mid-2015, Sandy was speaking with three men, one of which she hadn't met yet and two of which she considered potential prospects.
Psychic Seraphina
and
Psychic Lexi
, two of Sandy's go-to Advisors, told Sandy on separate occasions that she would meet a successful man with an olive complexion and a home at the beach. Again, Sandy was reluctant, until she started speaking with Uri (we changed his name to protect his privacy), an Israeli/Italian man who travels for business.
While Seraphina and Lexi hit the nail on the head predicting that Uri would come waltzing into Sandy's life, a few other Advisors were painting a different picture.
Psychic Layla
and
Psychic Delia
felt a negative energy around one of the men.
It doesn't make sense, Sandy thought, that some of these psychics are getting such positive vibes while others are seeing something so opposite.
She asked Noah who agreed that there was something not quite right with one of the men. Noah stuck to his guns and it turns out, another man that Sandy was speaking with (we'll call him Lawrence) was hiding something huge—
HE WAS MARRIED!
If it hadn't been for Sandy's instinct to contact other Advisors, she might not have put the pieces together.

Sandy has developed a system where she comes up with a question, calls an Advisor, then calls several others to compare readings. She takes notes, transcribing everything the psychics tell her. Later, when something doesn't line up Sandy goes back and looks at her readings like puzzle pieces. What fits where? What stands out? If it weren't for their guidance, she wouldn't have been able to answer questions like:
When will I meet someone new?
Should I move on or stick it out?
Can I trust this man or that one?
Why's he acting so strange?
Why is he being inconsistent—calling all the time and then not answering?

Sandy has openly admitted that she wouldn't have had the confidence and courage to keep dating without the help of the psychics. "I need a new perspective. There's a reason for everything and they help me make sense of it all." Some argue that the psychics' predictions coming to fruition was just a coincidence. Sandy's response? There are no coincidences. And if you think there are, try Sandy's approach. Converse with different Advisors, compare notes and cross-reference and analyze your own perspective against their readings. There could be a BIG piece to your beautiful, crazy, messy puzzle that you've been missing.

Stay tuned for updates on Sandy's story. Cheer her on, share your thoughts, or tell us your story below!

*All first names have been changed for privacy reasons. Sandy's story and words are real.
Share This Page
---
Leave A Comment
You must be logged in to leave a comment. click here to login
Comments