---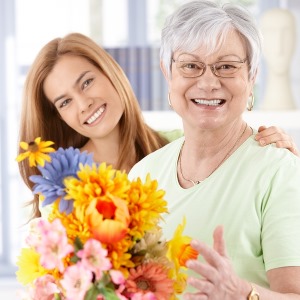 Mother's Day is an occasion to celebrate your mom, regardless of her age and yours. When you're a child, you create a drawing as a Mother's Day surprise. Now that your mom is getting older, celebrating this special occasion isn't quite as simple. But with some planning, the day can still be full of meaning and joy for you and your mom.
Spend Time With Your Mom
Whether your biological mom or a close relative raised you, you can show your appreciation by spending time with her on Mother's Day. One way to create new memories is to revisit old ones. Bring over a photo album or scrapbook to browse with your mom. Ask her questions and listen to her stories. If your mom is losing her memory, you can talk to her about what you remember from the photos. To help you have a better visit with your mom, have an online psychic chat to get some ideas of happy topics to discuss with her.
Watch a Movie Together
Rent one of your mom's favorite movies and watch it with her. Before or after the movie, ask your mom to tell you about the first time she saw it or why she never gets tired of seeing the movie. If your mom's able to enjoy movie snacks, bring over popcorn, soda, and her favorite candy.
Dress Up and Have a Meal at Home
Help your mom get into her favorite dress with matching jewelry. To make her feel extra-special, do her hair and makeup. Bring the supplies to give your mom an at-home manicure. It's a great way to pamper your mother without leaving her house. Then, enjoy a take-out meal from her favorite restaurant. This is a great way to celebrate Mother's Day with a mom who is homebound.
Do Something to Make Each Other Laugh
Mother's Day with an older mom can be quite delightful. It can be entertaining to play a game you both enjoy such as Spades, Pictionary, or Scrabble. Suggest calling a psychic who can do a cartomancy reading over the phone. You and your mom can take turns asking fun questions. For moms who appreciate comedy, watch a roast, a funny home video show, or some other funny television program that both of you can appreciate.
Give Her a Surprise Gift
Surprise the woman who raised you with a lavish gift such as a big bouquet of flowers, a giant box of chocolate, or an at-home massage, if she's open to it. Elderly moms may also appreciate a necklace or bracelet with symbolic meaning. For example, you might get a charm that has all the birthstones of her children and grandchildren.
When Mother's Day rolls around, think about how you can make your aging mother feel loved and special. The most important thing to remember is that you don't have to spend a lot of money or even leave her house to create a special day for her.
Share This Page
---
Leave A Comment
You must be logged in to leave a comment. click here to login
Comments