---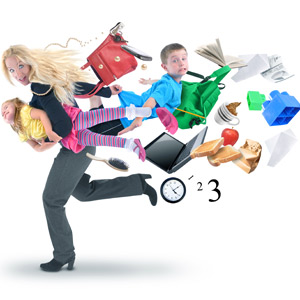 Today's moms tend to do it all. Whether you work full-time, part-time, or as a stay-at-home mom, you probably end the day feeling like there just weren't enough hours. Try these tricks to streamline your time management and make the most of every day.
Learn to Delegate
If you have perfectionist tendencies, it might seem easier to do a task yourself than to give it to someone else who will do it imperfectly. Learn to ease up on your need for perfection and embrace a bit of chaos for the sake of more free time. Children as young as four or five can help you clear the table after dinner, and by seven, your kids can sort laundry and sweep floors.
Make Meals en Masse
Set aside one day a week to work ahead, so you can prepare meals and snacks weeks or even months at a time. Rely on casseroles and slow cooker meals that you can freeze ahead of time and throw in with little thought later. Package snacks in single-serving portions so it's easy to grab something fast both for yourself and the kids.
Do Your Chores in Blocks
It may seem convenient to pop up and take care of laundry and dishes periodically throughout the day, but you're actually wasting time and effort by working in tiny batches here and there. Focus on one job at a time and you'll enjoy a higher level of productivity with the task at hand.
Get Help with Priorities
If your to-do list weighs heavily on your shoulders and you don't know where to start, get some insight from an outside source. An online psychic chat can help you see things more clearly so you know what to prioritize.
Avoid Distractions
If you work on a computer, the potential for distractions is high. From emails to social media sites, there's always something waiting to eat up your time. Limit the number of times you check your social sites each day, and try to look at your emails only once an hour or so, so you're not constantly stopping and starting to read messages.
Plan Ahead
Banish the bleary-eyed search through your closet in the morning by laying out clothes the night before. Setting out outfits ahead of time also makes it easier for kids to dress themselves in the morning. Planning meals weekly will help you eliminate last-minute trips to pick up forgotten ingredients. An authentic psychic can help you anticipate potential problem areas in your weekly planning.
Streamline Your Schedule
Keep track of appointments, projects, play dates, and to-do's in one place so you don't double book. If you're prone to checking half a dozen other apps when you look at your phone to check your calendar, stick to a method with fewer distractions, like a paper agenda book.
With mindful habits and smart planning, you can make every hour count and squeeze the most productivity out of every day.
Share This Page
---
Leave A Comment
You must be logged in to leave a comment. click here to login
Comments