---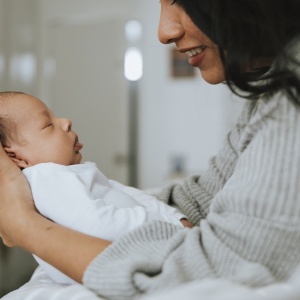 Congratulations! You've weathered the months of morning sickness, the expanding belly, and the miracle of childbirth and are finally among the proud ranks of new moms. Your first Mother's Day is a special one. Make sure you take the time to celebrate this event mindfully so you can honor both the new addition to your family and your own recently-attained role as a mom.
Take Care of Yourself
It's all too easy for new moms to neglect their own care while they're dealing with an infant. Make a concentrated effort to do something for yourself on Mother's Day, whether that's sleeping in while Dad or Auntie takes care of the baby, booking an afternoon massage, indulging in a tarot reading, or going on a shopping spree for some new post-maternity clothes.
Have a Photo Shoot
A photo shoot is a great way to document your first Mother's Day. Consider inviting your own mom out to participate as well, so you can capture all three generations. Hiring a professional photographer is a surefire strategy, but you can also get some amazing pictures with nothing more than a smartphone and some handy photo editing apps.
Let Someone Else Cook
Take the task of food prep off your to-do list for the day. Look up local Mother's Day options for brunch, make special dinner reservations, or simply order in. Sit back and enjoy something delicious without ever lifting a finger in the kitchen.
Go On an Adventure
Plan an adventure with your little one to celebrate the budding wonders of motherhood. This could be as simple as going to a florist shop and watching your baby's eyes light up at the colorful flowers or reclining on a picnic blanket at a local park. Don't worry about doing anything elaborate and focus on simple pleasures instead.
Start Journaling
Your thoughts and feelings in early motherhood are precious. It may be difficult for you to remember some of your earliest sleep-deprived experiences later, so it's worth recording these moments now. If you're not sure where to start, consider a live psychic chat. You can begin your journal with thoughtful reflections on what you learned and check back on these insights later.
Get Crafty
Make a special craft for your first Mother's Day. Capture your baby's handprints or footprints on a canvas, create a scrapbook of baby photos, or put together a special video compilation. This is something you'll look back on fondly for years to come.
No matter how you choose to celebrate Mother's Day, the important thing is that you take time to reflect on the honor of motherhood and give yourself the heartfelt care and appreciation that you deserve. Serving in this role is likely one of the most important things you'll do in your life, and it's certainly worth celebrating.
Share This Page
---
Leave A Comment
You must be logged in to leave a comment. click here to login
Comments