---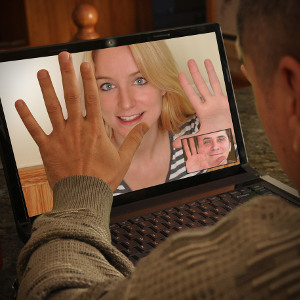 If haunting a bar stool or sitting through 15 rounds of speed dating don't sound like your idea of fun, you might want to search for your perfect romantic partner online. To ensure success, add these six essential online dating ingredients to your strategic recipe.
Review Your Past Relationships
Think about the men or women you've dated in the past. Why didn't those relationships work? What qualities would you like to avoid in the future? Use your past experiences to inform your online dating strategy. Look for potential partners who align with your personal goals and desires.
This information is particularly helpful for online dating because you'll view profiles of people who list their own qualities, likes, dislikes, and dreams. Discard profiles that remind you of past relationships that didn't work out.
Craft an Honest Profile
Never lie about yourself on an online dating website. You might feel tempted to exaggerate your accomplishments or assets, but you can't keep up the charade forever. Besides, if you're honest (but confident), you'll attract people who truly align with your personality.
However, avoid giving out too many details. The Internet makes you vulnerable to people who might not care about your best interests, so don't advertise your address, phone number, or other personal details. Share just enough to interest a potential partner. Additionally, give your profile picture special attention. Choose a photo that highlight your best features but still looks like you.
Send Personal Messages
Don't write a boilerplate message that you send to everyone who catches your eye. Instead, craft personal messages that address the recipient's profile. Mention that you share a love for Italian food, for example, or that you both love long bicycle rides in the park.
Look for Red Flags
Someone who uses only a single photograph of an extremely beautiful or handsome person might have created a fake profile. Similarly, don't continue to chat with people who ask you for money, hint about money troubles, or talk about sex during your first exchange of messages.
If a potential match asks you to take part in illegal activity or might have posted a fraudulent profile, alert the website's administrators. You might save someone else from falling prey to a scam.
Assess Your Compatibility
Look for things you have in common with potential matches. If you're unsure, book a numerology reading with an expert who can help you assess your compatibility. Don't blind yourself to signs of incompatibility, either; if you feel you haven't found a good match, move on.
Consider Targeted Sites
The big online dating websites like Match and eHarmony get plenty of publicity, but they aren't the only game in town. You might have better luck on a targeted website that attracts folks with similar interests. Sites that focus on religion, age, or hobbies help you find people who share common values, beliefs, and pastimes.
Finding a partner, whether online or off, sometimes feels frustrating. If you're not having much luck, consult an online psychic to help you find the problem.
Share This Page
---
Leave A Comment
You must be logged in to leave a comment. click here to login
Comments