---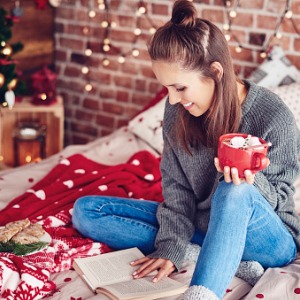 While the holidays are supposed to be a happy time filled with great memories, you might also feel some sadness during this time of year, especially if you're single. However, you don't have to let these feelings ruin your holidays. Instead, use these helpful tips to find joy during this festive time when you're single.
Commit to Self-Care
The greatest gift you can give yourself this holiday season is self-care. Best of all, you can decide what type of self-care you would like. Perhaps you'd prefer to start taking long walks, or maybe you want to curl up each evening with a good book. You can decide to get a head start on those New Year's resolutions by going to the fitness center, scheduling some time for an online psychic chat, or planning a day at the spa where you can relax and unwind.
Get Busy
Inactivity will only make your depression feel worse, so start making plans and getting out there to enjoy the things you like. As the invitations to attend holiday parties come in, choose a few you'd like to attend. If you enjoy creating gifts for people, buy your supplies and start putting together some of your DIY gift ideas. If you'd rather skip the holiday fuss, you can even do something as simple as turn yourself into a tourist in your own city and check out some of the popular attractions.
Remember the Reality About Relationships
Although it's easy to think your life would be perfect if you were in a relationship, it's important to remember that everything looks better from the outside, and that includes relationships. Just because couples look happy doesn't mean they truly are. Relationships take a lot of hard work and compromise, and many couples are actually in miserable relationships they wish they could leave.
Help Others
Although it seems trite, helping others during the holiday season can really lift your mood. You can find a variety of charities and organizations in your community looking for volunteer help around the holidays. For example, you can volunteer to walk dogs at the animal shelter, tutor children, serve food at a soup kitchen, take meals to the elderly, or visit people in the hospital.
Banish Repetitive Thoughts
Sitting around and wondering why you're single or thinking about how lonely you are won't make you feel any better. These repetitive thoughts will only make you feel worse. Instead, get out into the world and celebrate your personal freedom. Set aside your negative thoughts and start planning some of the suggestions above. If you're not sure where to start, a psychic phone reading can also give you some direction.
With these helpful tips, you can banish any loneliness you might feel during the holidays and focus on enjoying all the joy around you.
Share This Page
---
Leave A Comment
You must be logged in to leave a comment. click here to login
Comments