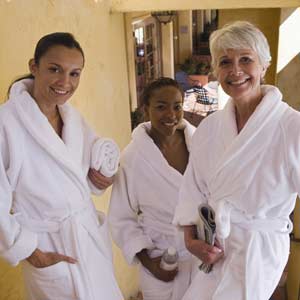 It's never easy to go through a breakup, especially when it comes after a long-term relationship. Sometimes, just seeing a particular object, place, or mutual friend is enough to dredge up painful memories and sadness over the relationship's end. If your friend is going through a breakup, here are five ways you can offer that person comfort and support.
Send a Surprise in the Mail
Instead of a text or email, buy a nice paper card and send it via snail mail. Because few people do this anymore, it's a special reminder to your friend about how much you care. Make sure the card expresses support and love. Include a gift card to your friend's favorite coffee shop or snack bar to encourage him or her to get outside. Also consider ordering your friend a box of chocolates and have them shipped to your friend's house. Chocolate causes your body to increase serotonin production, a natural way to reduce stress.
Weekend of Pampering
A friend who needs support and comfort after a breakup needs some distractions. Achieve happy, healthy distractions by setting up a weekend of pampering for you and your friend. Book massages or pedicures at your favorite spa. Plan to go shopping, and eat delicious, healthy meals.
Other weekend pampering ideas include going to see a game or going dancing. Buy tickets to see a movie, but avoid romantic or dramatic films that might make your friend want to cry. Focus on light, cheerful activities to provide a positive distraction from sadness over the breakup.
Offer a Book
Another way to help your friend feel relief from the emotions connected to a breakup is to give your friend a great book. Consider giving a book that's funny, or hand over a new cookbook. Then, offer to spend time with your friend trying out some of the recipes. Don't give your friend any romantic or sappy books that could stir up the breakup related anger.
Talk to a Psychic
Your friend is feeling down because he or she doesn't know what the future holds without a significant other. Taking your pal for a live psychic reading is a fun way to experience a glimpse at what positive people and events lie ahead. You don't even have to leave your house because many psychics offer their services over the phone. Help your friend find a phone psychic who can discuss your his or her future opportunities for love.
Blind Date
Set your friend up on a blind date. Think carefully about the kind of person your friend likes before choosing the person with whom you set them up. Also, don't try this tactic immediately after the breakup. A month or two after a break-up is the perfect time to help your friend think about moving on in a very tangible way.
In addition, make sure to be a good listener to your friend as he or she feels the need to talk about the situation. Make time for your friend when you can talk without distractions and without others overhearing your conversation.