---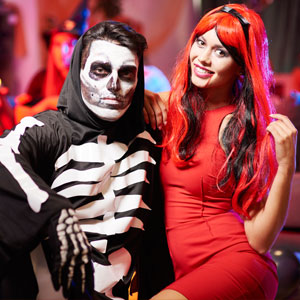 If you love fall, you likely can't wait for Halloween. This holiday gives you an excuse to get spooky, and it isn't just celebrated by kids - adults have fun on Halloween as well. If you happen to have a significant other, you can transform this holiday from creepy into romantic. Halloween is the perfect opportunity to plan a unique date night that you'll both remember. Not into the idea of dressing up in a costume for a local party? Here are some ideas for you and your partner as Halloween inches closer.

1. Seek Out Tarot Readings
You and your significant other can contact our psychic line around Halloween for some seasonal insight into your relationship. A tarot reading can let you know what the future has in store for you, as well as how you and your partner will do in the coming months. In the end, you'll both come away knowing more about each other, placing your relationship on a deeper level.

2. Have A Scary Movie Night
Even if you aren't the type of person who enjoys horror movies, SheKnows stated that you might want to rent one for the sake of the Halloween season. A scary movie date night on the couch with your loved one can be an enjoyable way to celebrate the holiday. Just make sure that there are plenty of pillows and blankets on the couch for you to hide behind!

3. Invest In Trick-Or-Treating
Giving out candy to trick-or-treaters is a favorite pastime for many people, regardless of whether they have their own children at home. Make an event out of it with your partner - bond over a couple of glasses of wine in between handing out candy to everyone who comes to your door. Turn down the lights and make room for discussion on the couch.

4. Attend A Party Together
Even if you're not interested in attending a costume party, there's likely going to be a Halloween bash in your area that you and your partner can attend. Going to one of these events together can give you both an opportunity to hit the town and enjoy yourselves on this holiday. If you aren't invited to any parties, think about hosting your own with your partner! This will also allow you to make your own rules - you can eliminate the costume rule if you choose.

5. Start A Tradition
If you and your significant other don't have a Halloween tradition, now is the perfect time to start one. Consider baking Halloween-inspired cupcakes together or going to a special restaurant to recognize your relationship. Doing so can give you a reason to look forward to Halloween every year.

Whether you love Halloween or you don't understand the hype, there's no better time to make room for a celebration in your calendar for this holiday than now. Halloween isn't just a time for trick-or-treating and dressing up - it's a stark reminder that autumn is here.
Share This Page
---
Leave A Comment
You must be logged in to leave a comment. click here to login
Comments